Direction ecoFLEXiblity - Opel to reveal unseen concept at Geneva
Opel will excite Geneva Motor Show goers March 4 when it unveils the Meriva – a fresh, innovative, flexible champion for the monocab segment. Opel also will exhibit the company's push to be a leader of environmentally responsible motoring with the debut of its futuristic concept car, the Opel Ampera extended-range electric vehicle and new Corsa, a fuel miser with up to 13 percent saving in fuel consumption.
"Opel is driving innovation and environmentally responsible propulsion in Europe and wrapping it in stylish, expressive design. All of that will be on display in Geneva," says Alain Visser, Vice President, Sales, Marketing & Aftersales of Opel/Vauxhall.
Meriva: The flexibility champion
Innovative, versatile and elegant: The second generation Opel Meriva, to premiere March 4, will set the new standard for automotive versatility with a multitude of innovative features engineered to optimize the flexible use of space and packed in a distinctive, contemporary design.
The second generation Meriva offers clever, affordable, on-board flexibility. Its FlexSpace system has been further developed to become even more intuitive and easier to use. It also introduces FlexDoors, innovative rear-hinged rear doors that facilitate access to its cabin – a premiere for a volume manufacturer. Moreover, the new Meriva features great interior storage space enhanced by a revolutionary concept of flexible center console, as well as the Opel-exclusive FlexFix system – the integrated rear bicycle carrier that is stored like a drawer under the luggage compartment.
The Meriva's flexibility trademark is enhanced by expressive exterior and interior styling that carries forward Opel's award winning new sculptural design language already seen in the Insignia and Astra. The Meriva has the same Opel DNA, but its own personality: Its monocab silhouette is fluid, elegant and dynamic. The rear window graphic features a distinctive wave accentuating the rear-hinged FlexDoors, while also improving the view for rear seated passengers, particularly children.
The wide powertrain line up has been turbo-charged for efficient performance. The range offers a power bandwidth from 75 to 140 hp and will include a particularly economical ecoFLEX version. Naturally, it will come with a choice of 5- and 6-speed manual transmissions as well as a 6-speed automatic gearbox.
Concept Car: Aspiring to a great future
Opel will premiere a concept car that envisions many of the qualities the company is embracing as it moves forward: Coupling expressive, beautiful design with German engineering to meet the environmental challenges of tomorrow. .
Combining design, green innovation and alternative propulsion, the vision model is proof that size and comfort do not have to be sacrificed for a vehicle to be environmentally efficient.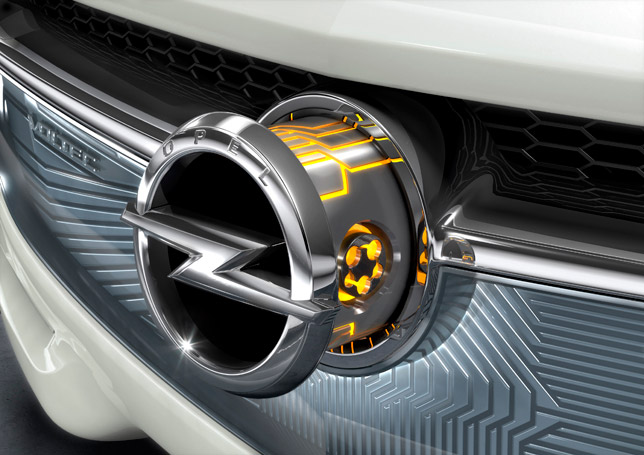 Opel Ampera: Showing off in Geneva
Another highlight of Geneva: the extended-range electric Opel Ampera. The five-door, four-seater Opel Ampera is on schedule to go into production late 2011. It carries the same design DNA as the Astra and the Insignia, Europe's Car of the Year 2009, yet it uses a ground-breaking electric propulsion technology called Voltec.
Unlike other conventional electric propulsion systems, Voltec uses electricity as its primary power source and, later, gasoline as a means to generate electricity. This helps the Ampera overcome all issues related to the usual limited range of pure electric cars.
The Opel Ampera is just one part of Opel's mission to be a European leader in alternative propulsions, using its expertise in innovative technologies and making them affordable.
New Corsa: The fuel miser
Part of Opel's drive to make the world's air cleaner, the new Corsa mid-cycle changes have reduced fuel consumption by up to 13 percent, yet without compromising on power or driving fun. The lively Corsa is not just a pretty car: It also offers customers the best quality. A recent report by Europe's leading technical expert organization, DEKRA, rated the Opel Corsa as the best overall in terms of quality. In its 2010 report, the Corsa had the lowest defect rate of all vehicles tested.
The new Corsa offers a wide range of low carbon-emitting gasoline and diesel engines, including the 98g 1.3 CDTI engine Corsa ecoFLEX model. The powertrain line-up consists of a wide offer of gasoline engine from the 1-liter 3 cylinder (48 kW/65 hp ) entry level version to the turbo charged 1.6-liter on the Corsa OPC (141 kW/192 hp). On the diesel side, different versions of the 1.3 and 1.7 CDTI motors offer outputs ranging from 55 kW/75 hp to 96 kW/130 hp all with fuel consumption under 5 liters per 100 kilometers.