Piecha 2012 Mercedes SLK
Piecha Design aren't waste any time and the tuning company has already released a special styling package for the latest 2012 Mercedes SLK – R172 model. The name of the project is Accurian RS and it includes only aerodynamic enhancements. Still, we expect them to release some performance packages for the powerful Mercedes' engines.
The body kit includes an Accurian RS front spoiler lip with lateral grids, Accurian RS side skirt covers, Accurian RS sills with LED lighting units. There are also a revised rear apron, a new diffuser, a trunk-mounted spoiler and a four-tailpipe sport exhaust system.
Piecha Accurian RS stands on enormous alloys with dimensions 8.5J x 19" ET25 with 225/35 R19 tires at the front and optional 9.5J or 10.5J x 19" with 255 or 275/30 R19 tires at the rear.
The stance is brutal, because of the lowering springs kit, which cuts 25 mm of the height of the SLK.
Finally, the Mercedes specialists from Rottweiler offer practical comfort top control, which allows for an opening and closing of the top via the serial key up to a speed of 60 km/h.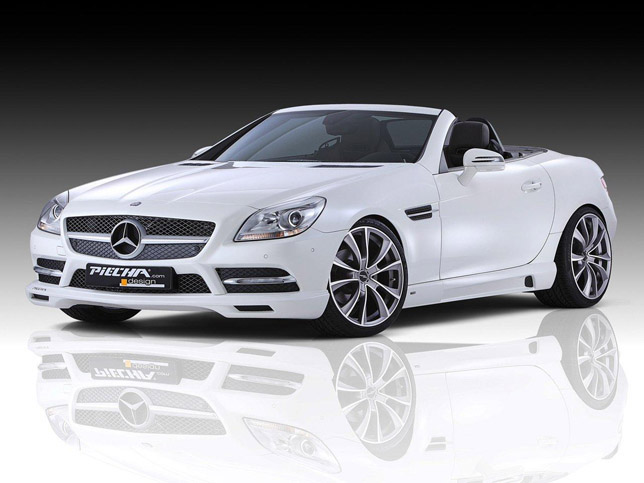 Source: Piecha Design