Porsche 918 Spyder is on the lead on the UK road trip along with its brothers: Cayenne and Panamera S E-Hybrid. The dream car for many joins a special road trip around England and Whales. The lucky guy is Ingo, who won a special competition in Facebook, especially organized by Porsche team. Now he will visit numerous interesting places, while seated in the legendary 980 Spyder.
Interesting fact is that, at each stage, Porsche fans will have the chance to sign the car as a memento of the trip. The trip itself will start from London through Oxford, Wales and Cotswolds before going to the Porsche Experience Centre at Silverstone. This route is especially chosen to demonstrate the performance and efficiency of the car.
SEE ALSO: Porsche Brings the Boxter Spyder in New York
The vehicle itself comes with a V8 Petrol engine, that produces a total of 608 hp (447 kW) and two special electric motors, that gives additional 129 hp (95 kW) and 156 hp (115 kW) respectively. The total of 887 hp (652 kW) is capable of incredible acceleration, that is measured from 0 to 100 km/h (62 mph) for 2.5 seconds. And the total speed is 385 km/h (214 mph) Crushing force, isn't it?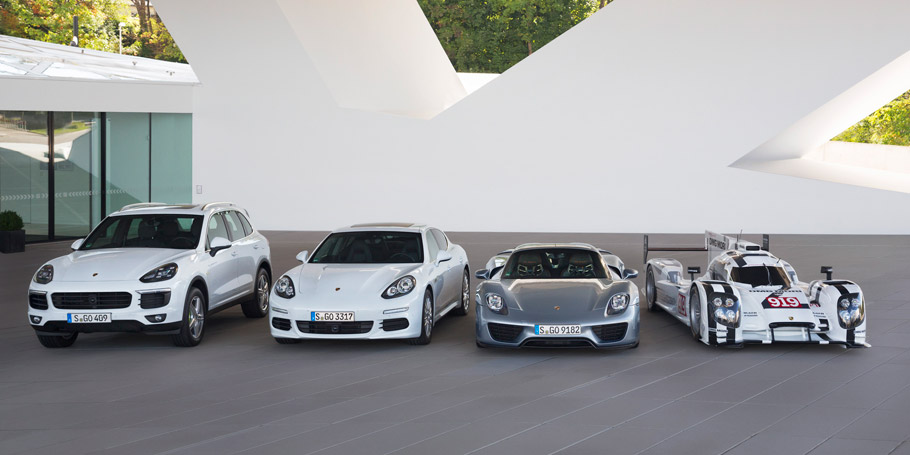 Porsche team surely knows how to make special events even more special with the right car. You should definitely check it out!
Press release: 
Porsche 918 Spyder leads UK road trip with Cayenne and Panamera S E-Hybrid
A dream drive for one Porsche enthusiast will become a reality this week when Ingo Georges Vandenberghe from Austria joins a special road trip around England and Wales in a Porsche 918 Spyder plug-in hybrid super sports car.
Ingo (27) won this amazing prize in a competition hosted on the Porsche Facebook page to celebrate the landmark of reaching 10 million Facebook fans worldwide. Now, he will visit a series of top cultural and motoring landmarks from the unique vantage point of the cockpit of the epochal 918 Spyder.
At each stage on the car's 1,000 km journey, Porsche owners and enthusiasts will be invited to sign the car as a memento of its historic trip. The 918 Spyder will be joined by a Cayenne S E-Hybrid and Panamera S E-Hybrid, underlining the pre-eminent position of Porsche as the only premium marque offering three plug-in hybrid cars.
The 918 Spyder – the fastest production car ever to lap Autocar magazine's road test circuit – will drive from central London and tour through Oxford, Wales and the Cotswolds before finishing at the Porsche Experience Centre at Silverstone. The route has been chosen to demonstrate both the power and efficiency of Porsche E-Hybrid technology, the ultimate expression of Porsche Intelligent Performance.
To encourage people to share in this special moment, the car has been specially wrapped so it can be signed at stops during the journey.
The choice of Bourton-on-the-Water as a stopping point was inspired by the Facebook competition. Fans were asked to identify the country and location of a landscape photograph, and the closest guess won this amazing 'once in a lifetime' experience.
More information is available via www.porsche.com/10m, a combination of specific Porsche brands features and user-generate content curated from hashtag #10MRoadtrip. Fans are requested to use this hashtag when sharing their experiences of meeting the 918 Spyder on its journey.
Featuring a bespoke 608 hp 4,593cc V8 petrol engine supported by a 115 kW electric motor driving the rear axle, and a 95 kW electric motor powering the front wheels, the 918 Spyder produces a total output of 887 hp. This power offers the potential for acceleration from 0 to 60 mph in 2.5 secs and a top speed of 214 mph. Such blistering performance is combined with the potential to accelerate to 93 mph in pure electric drive mode, and fuel economy of up to 94 mpg with emissions as low as 70 g/km CO2. Built in a limited series of 918 examples priced from €781,155, every example of the carbon fibre two-seater 918 Spyder has been sold.
The Route:
We welcome people to come and join us and sign the car.
Use #10MRoadtrip to find out the timings for when the car will arrive at the key stops.
April 27
Start:

Mondrian Hotel, Central London

tour of landmarks – London Eye, Westminster, Buckingham Palace, Harrods

Stop 1:

Windsor Castle

Stop 2:

Porsche Cars GB

Stop 3:

Oxford
April 28
Stop 4: Bristol – Clifton Suspension Bridge and Banksy Art, Severn Bridge Stop 5: Cardiff Millennium Centre – city twinned with Stuttgart
April 29
tour of the Brecon Beacons, Monmouth, Ross-on-Wye
Stop 6: Porsche Centre Tewkesbury Stop 7: Bourton-on-the-Water the 918 Spyder will also visit Porsche Club GB HQ in Moreton-in-the-Marsh
Stop 8: Stratford-upon-Avon
April 30
Stop 9: Warwick Castle Stop 10: Porsche Experience Centre Silverstone, arriving noon Stop 11: Canary Wharf, London
Ingo will be accompanied on the drive by Gordon Robertson, Chief Driving Consultant at the Porsche Experience Centre Silverstone. On their arrival at the famous circuit in Northamptonshire, Ingo will experience the extent of the power and performance of the 918 Spyder when Gordon demonstrates its breadth of ability around the Porsche Experience Centre tracks.
Source: Porsche