Pricing announced for 2013 Mercedes-Benz SL-Class Roadster
2013 Mercedes-Benz SL-Class Roadster is even more exceptional as one can imagine it and is now available with a starting price of £72 495. This is the sixth generation of the world's most emblematic Roadster and afore mentioned price goes for the SL 350 model. SL 500 will cost the "willing-to-be-driver" £83 445.
One is most certain, the new 2013 Mercedes-Benz SL-Class Roadster is lighter, have sportier stance and more importantly - more efficient. An interesting fact for instance is that the main reason for this is that its body was almost entirely of aluminum. All this combined with its power, which comes from Mercedes-Benz BlueDIRECT direct-injection engine, makes the luxurious car efficient in terms of fuel, yet still not lacking in performance.
In particular, SL 350 is powered by a BlueDIRECT 3.5-litre V6 engine, which produces 306 horsepower (225 kW) at 6,500 rpm and 370 Nm (273 lb-ft) of torque at 3,500 – 5,250 rpm. The new model will be also responsible for sharper performance. It is able to accelerate from 0 to 100 km/h in only 5.9 seconds and onto a 155 mph electronically limited top speed. However, its CO2 emissions remain high – 176 g/km. Yet, the fuel economy is more than excellent - 37.7mpg.
Next, the SL 500 is powered by the 4,663 cc BlueDIRECT V8 engine. This one combines direct injection and twin-turbo technologies. Due tot his fact, it develops 435 hp (320 kW) at 5,250 rpm and an impressive 700 Nm (517 lb-ft) of torque which is available from a low 1,800 rpm to 3,500 rpm. Its sprint from 0 to 100 km/h is even more impressive – it can cover it in just 4.6 seconds. Here as well the speed is electronically limited to 155 mph. Fuel efficiency and CO2 figures are 30.7 mpg on the combined cycle and 214 g/km.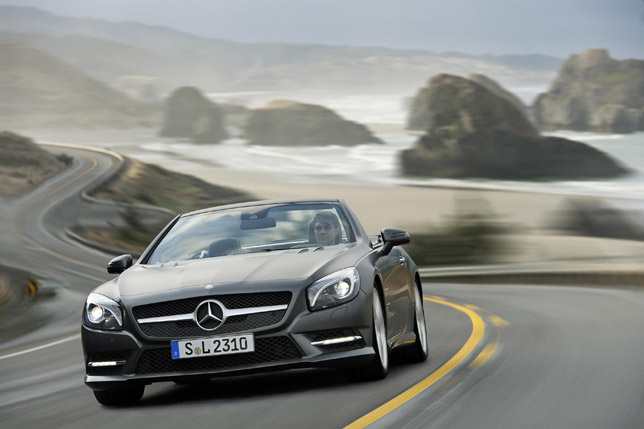 Although it is a new 2013 model, the SL-Class retains its classic sports-roadster proportions. It still has a long bonnet and set-back cabin. Nevertheless, the car is now longer, wider and lower than before.
Something that must be highlighted here as well is that its body construction is mainly made from aluminum. The consequence of this is that it has reduced the weight of the car with circa 140 kg, despite the significant increases in safety and luxury features. Nonetheless, there are parts which are non-aluminum: the magnesium sections of the rear floor and the high-strength steel implants in the front windscreen pillars for peerless open-top safety.
The body of this Mercedes-Benz vehicle can now be considered stiffer as well. For example, the chassis now includes semi-active adjustable damping or optional Active Body Control, and Direct Steer speed-sensitive power steering. All this results in more nimble and sporty responses with no sacrifice in comfort.
In terms of safety, the new SL-Class can be considered among the safest roadster in the world. It comes equipped with a comprehensive standard protection features: PRE-SAFE, NECK-PRO, ATTENTION ASSIST and ADAPTIVE BRAKE, pro-active DISTRONIC PLUS AND PRE-SAFE BRAKE (as an option).
Standard specification includes the following: Pre-safe, Attention Assist and Active Bonnet; Intelligent Light System with bi-Xenon headlamps; Magic Vision Control heated adaptive wiper system; COMAND Online with Media Interface; Sports seats trimmed in leather upholstery; 18" five-twin-spoke light-alloy wheels.
Source: Mercedes-Benz