Project Speed Walker: SR Auto Audi R8 Spyder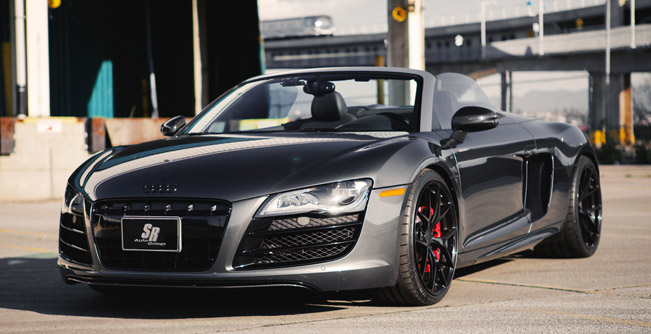 Project Speed Walker is the name of the latest project of the tuners from SR Auto. This time they have put their attention on the emblematic Audi R8 Spyder model, which includes a massive V10 heart.
This means only one thing: unique performance, which is due to the 5.2 litre engine. The unit delivers 525 hp (386 kW) and 530 Nm (391 lb-ft) of torque. On the road these numbers mean that the Audi will accelerate from stand still to a 100km/h in only 4.1 seconds on its way to a top speed of 194mph.
What is very interesting here is that the car is tied together with the help of carbon fiber and shades of black. For this project, they have worked with people from PUR Wheels, Hofele, PPI, MA Carbon, Miltek, APR, and Carbonio.
The wheels were of course responsibility of PUR Wheels. They have supplied the Audi with their PUR 4OUR Monoblock model in Modern Gloss Black color and in sizes 20x9+38 (for the front) and 20x12+46 (for the rear).
For the exterior on the other hand took care Hofele. Thanks to the company the Audi now has new Carbon Fiber Front Spoiler. The interior is predominated by carbon fiber as well. It includes PPI Carbon Fiber Steering Wheel, MA Carbon Fiber Rear Center Console, MA Carbon Fiber Gear Shift Circle.
At last but not leas, some performance upgrades have been done and they feature the following: Carbonio Carbon Fiber Intake System, Miltek Exhaust System, APR ECM Upgrade.
Source: SR Auto