PWF Film "Matt Caribbean Metallic" by Bruxsafol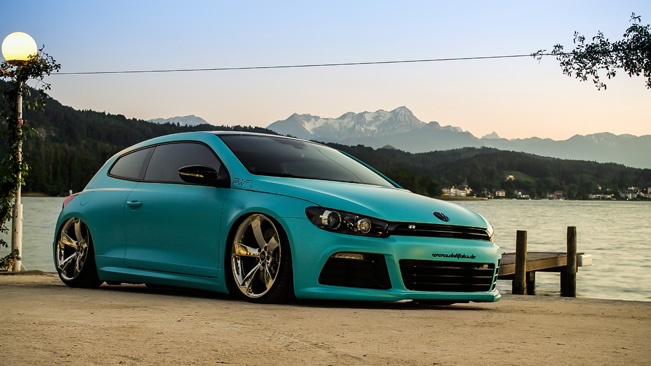 The new "Matt Caribbean Metallic" unique, beautiful color has been presented by BRUXSAFOL along with its "PWF" film range just before the start of the summer. This Volkswagen Scirocco was the first car to be upgraded with this turquoise matt film color which really becomes one head turning car. As far as for the interior, its equipped with sports bucket seats with white inside lighted by LED lights. This car can only be described as a "real super sports car" with specifications like "Bull X-exhaust system" from "Turbo", RS5 rotor rims 9x20 et 26 in high gloss original. It also comes with optimized software, icluding level three+ "DSG".
The BRUXSAFOL designed films of the "PWF" series ("PWF" stands for "Platinum Wrapping Film") can be ordered only from carefully selected dealers. Manufactured from only the latest most modern high materials only,films of the "PWF" range materials provide best protection, UV resistance and value to its every tunned car.
There are really no limits to the choice of color you can chose from. The designer's fantasy here introduce exceptional effects and colors. Anyone can upgrade his car into a genuine, stylish and extragavant car, making it one head turning, outstanding vehicle.
Source: Volkswagen