Range Rover Evoque Equipped With World's First 9-Speed Automatic Transmission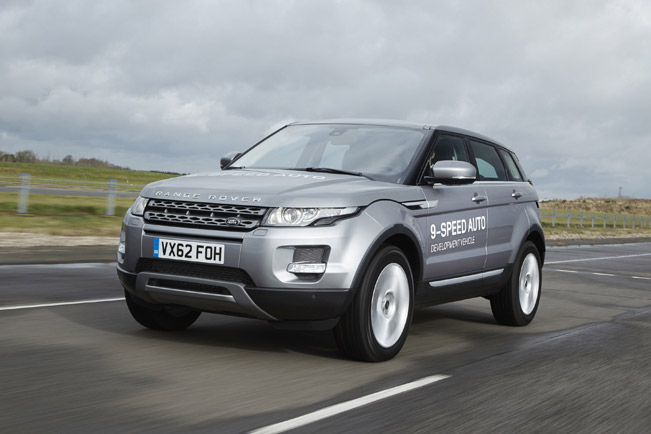 Great news from Land Rover! The brand will showcase at the 2013 Geneva Motor Show the world's first 9-speed automatic transmission for a passenger car. It is named ZF 9HP transmission and especially created for transverse applications.
It is one of the most efficient and technically advanced transmissions ever used in a production vehicle and in particular the new Range Rover Evoque will be equipped with it. The number of gear ratios has been increased from six to nine and this gives significant improvement in fuel economy and a corresponding reduction in CO2 emissions.
In addition, the smaller ratio steps deliver enhanced response during acceleration, improved shift quality, drive and refinement. What is more, the higher top gear not only decreses fuel consumption but also the lower engine revs improve comfort and reduce noise when cruising at high speed.
To go further into details, the lowest ratio in the 9HP is specifically designed for off-road use, towing and more extreme on-road conditions like gradients and altitude. The 9HP is also highly responsive and versatile too.
If the existing six-speed transmission makes shifts sequentially, the new one includes a skip-shift function for much swifter downshifting under rapid deceleration or from greater driver input demands. The torque converter incorporates a multi-stage damper system for smoother pulling away and enhanced refinement.
Furthermore, the "fast-off" mode measures the rate of throttle release, anticipates further requests by the driver for high power, then holds the gear if necessary. For instance, if there is requested a downshift when the vehicle is travelling too fast, the transmission will remember this request and make the shift when the speed drops to an appropriate level.
The extra three gear ratios add just additional length of 6 mm. Despite that, the transmission weighs 7.5 kg less than the outgoing six-speed transmission. The small package space is achieved through a new hydraulic vane-type pump, which also delivers improved efficiency, two patented dog clutches replacing bulkier conventional clutch packs, and an Intelligently Nested gear set.
Source: Land Rover