Rinspeed eXasis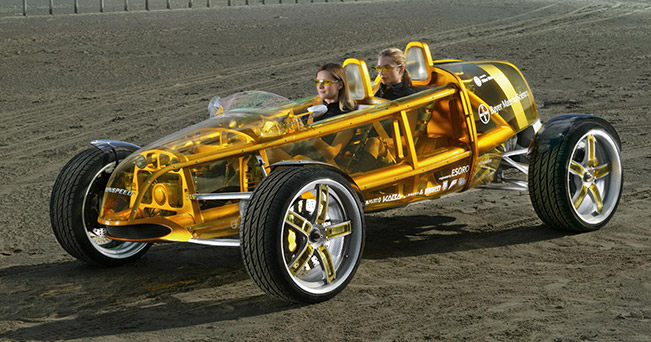 Rinspeed AG is presenting another of its legendary concept cars at this year's Geneva Motor Show: the "Rinspeed eXasis". This transparent car combines state-of-the-art materials with futuristic design. As the icing on the cake, project partner Kaba has supplied Rinspeed with an exciting new technology.
Thanks to Kaba technology, Rinspeed AG's new concept car can only be used by authorized drivers. The driver is identified by touch and personally welcomed. In itself, this is not revolutionary, but the technology goes much further. The functions on the completely transparent dashboard can be adapted to suit the preferences of every authorized driver. What is more, the operational functions are personalized by user. This means that every "button" in the car can be programmed individually for each authorized driver.
As a result of the Kaba technology integrated into the "Rinspeed eXasis", the equipment can only be used by people with the required authorization. This is activated by a chip that is integrated into the identification medium and that sends tiny signals through the human body to a recognition unit. This provides absolutely personalized access combined with the greatest possible convenience. This Kaba technology may open up incredible opportunities for the future.
Think about it: Car theft is massively reduced since vehicles equipped with this technology are totally immobilized until an authorized driver is sitting behind the wheel. Computers start up with personalized settings only when touched by the authorized user. Medicine cabinets only stay open as long as they are being touched by an authorized person. Otherwise they remain locked. Homes are made safer for children by programming equipment such as ovens so that only adults can switch them on, or by ensuring that balcony doors or windows remain locked for children.
With this contribution to Rinspeed's latest concept car, the "eXasis", Kaba is once again demonstrating its worldwide technological leadership. Its visionary system approach proves that access control is about more than just opening doors.
The Kaba Group is a market leader in the worldwide security industry. Kaba provides innovative and comprehensive solutions that ensure security, organization and convenience in a wide variety of access situations and in the recording of personal and enterprise data. The group employs around 10,000 people in more than 60 countries.
Thanks to its longstanding Total Access Strategy, Kaba is also a leader in the development and distribution of innovative identification technologies. For example, in 1990 Kaba broke new ground with the introduction of its LEGIC RIFD technology. This technology is now used every day by more than 70 million people in more than 50,000 installations.
High-tech KW coilover kit "Made in Germany" The transparent Rinspeed creation "eXasis" shows the normally hidden working suspension technology of KW automotive GmbH.
For the latest Rinspeed concept car a high-tech coilover kit was developed by the KW engineers. The suspension is individually adjustable according to the needs of the driver. High-strength aluminium coilover struts with patented KW damping technology of the Variant 3 are made for a maximum performance with low weight.
The individual performance can be optimal adjusted by a separate rebound and compression damping adjustment. This KW coilover kit offers high-tech from motorsport with individual adjustment to the demanding driver.
KW automotive GmbH is one of the leading manufacturers for premium suspensions in small series worldwide. The Swabian company offers a complete suspension range from motorsport to street use to all their customers worldwide – from sports springs and sport suspension kits to KW coilover kits "inox-line" in three damping variants to KW competition race suspension kits.
Research and development are part and parcel at the headquarters in Fichtenberg/Germany. Posted on Babez.de! More than one third of the 120 employees are working on the research of new damping technologies and the development of new and innovative products for the KW suspension program as well as customers and industry orders.