2012 Rolls-Royce Phantom Extended Wheelbase with a Beijing World Debut
2012 Rolls-Royce Phantom Extended Wheelbase made a global debut at Auto China. The vehicle completes the Phantom Series II family of the brand.
Phantom Series II is an evolution of the Rolls-Royce Phantom model which first appeared back in 2003. What is particularly specific about the extended wheelbase is that it features significant improvements in design, drive-train and technology.
Of course, it carries a striking new front-end design, which is completed with re-styled bumpers and rectangular light apertures. In addition, there are also included fully-LED headlamps as standard. They deliver characteristic whiter light, and encompass technologies that automatically change the shape and direction of light beams according to road orientation and in response to different driving conditions.
Furthermore, there are also featured driver assistance technologies such as a modern user interface with re-designed multi-media controller, controls a new satellite navigation system with functions that include 3D maps with landscape topography, guided tours and composite route planning.
All of the necessary information is displayed on 8.8 inch control centre display. There are also displayed the images provided from the front, rear and top-view camera systems, which in turn help in better manoeuvring.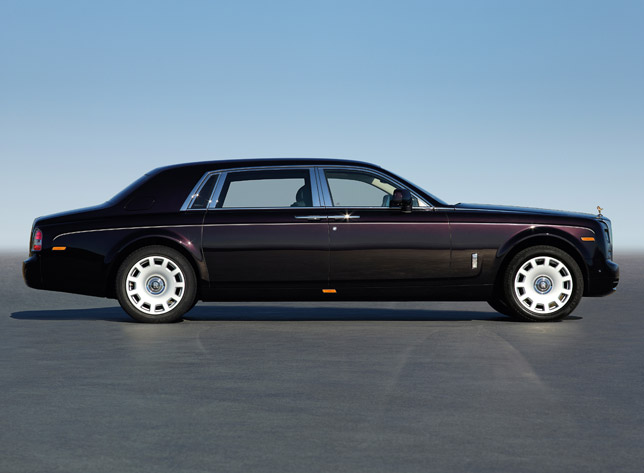 What is more 2012 Rolls-Royce Phantom Extended Wheelbase includes a brand new eight-speed automatic gearbox and rear differential. They improve the driving dynamics and complement perfectly the V12 direct injection engine.
In fact, this results in improved fuel consumption and less CO2 emissions as well.
Another interesting remark here is that at least five layers of paint and clear lacquer coating are applied to each Phantom model. The number of the layers becomes seven if the car is two-tone.
Any chosen paint color can be specified by the customer. Furthermore, single or double coach-lines can also be added, where each five metre line takes three hours to apply (by hand) using only the finest squirrel and ox hair brushes.
Moreover, there are also wooden features can be seen in the interior. It depends on the specifications whether there how many pieces of wood are being utilized for the construction.
In particular, up to 43 wooden parts can be used. Each of which is constructed from up to 28 layers of wood. In order to improve the strength and to prevent splintering in an impact, these are interspersed with thin sheets of aluminium.
The leather in the interior is drum pigmented. This allows the leather to keep its soft and supple feel, giving a rich, uniform colour while maintaining the natural feel, softness and comfort.
Source: Rolls-Royce