Schmidt Revolution Audi R8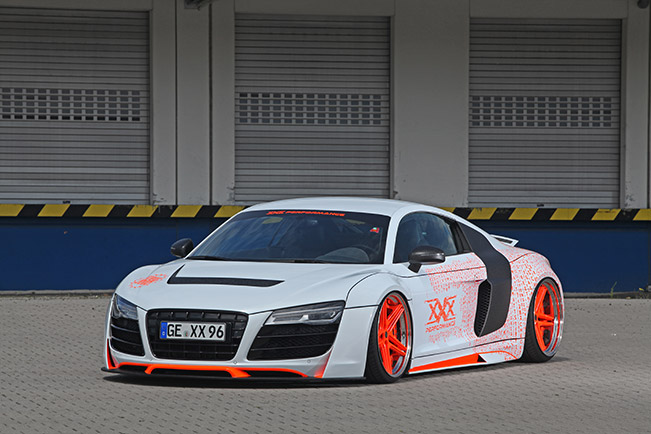 Schmidt Revolution is now offering an extreme tuning package for the stylish sports car - Audi R8. Its stance is simply impressive, because it is not only lowered into the tarmacs but is also widened to more than 2 meters.
Schmidt fitted the tuned R8 with enormous 9.5J x 20" ET6 (front) and 12.5J x 20" ET2 (rear) alloy wheels fitted with Hankook tires S1 Evo 235/30 R20 and 305/25 R20, respectively. The wheels come with Radinox rims 5.5" (rear) and 4" (front) assembled on deep concave FS-Line centres.
Otherwise, the exterior is modified by Triple-X in Bochum. These tuning specialists have modified the front and rear wheel arches to take deep dished wheels. Last, but not least is the sports exhaust system, which might be silenced by a throttle system.
As a reminder: the 2012 Audi R8 GT has a 5.2 liter V10 FSI – 560HP (412 kW), which is enough for catapulting to 100 km/h in 3.6 seconds and to 200 km/h in 10.8 seconds. The top speed is 320 km/h (199 mph). In real life, the R8 GT is able to cover 1 km distance in just 21.392 seconds with a trap speed of 253 km/h. In other words, it accelerates 0-253 km/h in 21.4 seconds.
Source: Schmidt Revolution