Scion FR-S Sports Coupe Concept
Scion has introduced a new staggering model FR-S Concept. The rear wheel drive sports coupe was presented at the 2011 New York International Auto Show (NAIAS). The vehicle will be on display through May 1. Still, FR-S is practically a Toyota FT-86 with the emblem of Scion.
"Scion is always experimenting with new things," commented Jack Hollis, Scion vice president.
"The brand is iconic with the xB, adrenalized by the tC, and groundbreaking with the iQ. The FR-S will expand the brand into yet another new dimension that I know it is truly destined for.", he added.
Scion FR-S is powered by a 2.0 liter boxer engine at the front and all power is send to the rear wheels. The engine is mated to either a 6-speed manual or a 6-speed automatic gearbox.
FR-S features aggressive exterior looks with lowered stance and huge 20" alloy wheels. They come from Five Axis and have dimensions – 8.5J x 20" at the front and 10.5J x 20" at the rear. The concept features four-piston-caliper front brakes that clamp down on monstrous 18" annular carbon ceramic matrix rotors that are fixed to the wheels in a motorcycle-fashion.
The FR-S Concept is layered in rich coats of Code Red, the appropriately named color that consists of a custom blend of candy and a developmental additive from BASF called Mearlite SSQ.
Scion FR-S Sports Coupe Concept dimensions:
Length - 168.2" Width - 71.5" Height - 47.4" Front Track - 61.8" Rear Track - 59.9" Wheelbase - 101.2"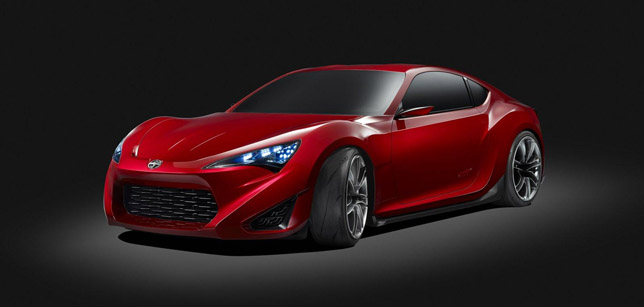 Source: Scion