Senner Tuning 2012 Audi S5 Coupe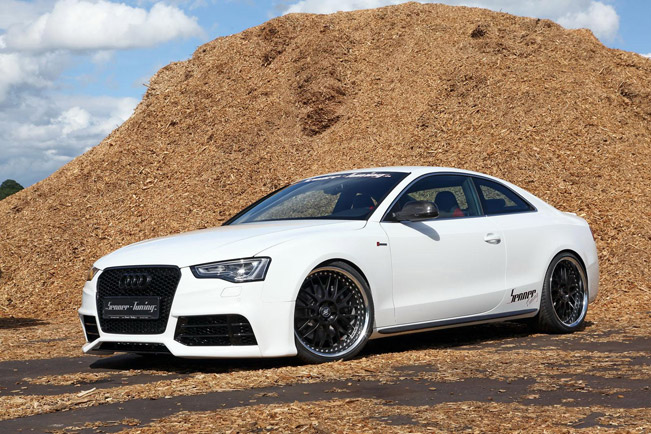 Senner Tuning has presented their latest project based on the facelift version of Audi S5 Coupe. The tuning company aimed the vision of the flagship RS5 model.
The S5 Coupe is finished in ibis-white paint and has a new front spoiler in RS5 design with original RS5 air intakes as well as fitting an original black RS5 radiator grille. At the rear, Senner added a window spoiler and a restrained boot lid spoiler element. There are also side skirts finished in carbon-fibre. The characteristic Audi rings on the front and rear of the vehicle have been retained in black, and Senner Tuning have placed 'Supercharged' badges on the front fenders to give a little something extra. The vehicle's number plates are illuminated by bright white LEDs.
The rido rolls high-quality Work VS-XX light-alloy wheels with black-coloured anodised star-shaped rims and mirror-finish anodised outer rims. The dimensions are 9J x 20"at the front and 10.5J x 20"at the rear fitted with tein Ultra Sessanta tyres of size 245/30 R20 and 295/25 R20, respectively.
The suspension received a full coilover kit from KW ensuring firm control while cornering at the same time as a smooth ride and great driving comfort.
The 3.0 liter V6 TFSI engine can be boosted from 329HP (242kW) to 429HP (315 kW) and from 440Nm (326 lb-ft) to 501Nm (371 lb-ft). Thanks to the removal of the electronic Vmax (maximum speed) blocker, Senner Tuning's Audi S5 can fully convert its enhanced performance into forward drive and top line speed.
A four-pipe RS5 exhaust system extending from the catalytic converter, including a downpipe and exhaust flaps, ensures the Audi S5 makes a truly awesome sound.
The interior boasts bicolour fine Nappa leather trim in black and magma-red with contrasting colour stitching either. There is also an interior set from coarse-mesh 600 carbon-fibre, an Audi R8 sports steering wheel, RS5 door handles, including illumination units. A DVD system can be activated to enable DVDs to be shown while driving.
Senner Tuning is offering a special price of €69,990  for this particular car.
Source: Senner Tuning