SENNER Tuning Audi A1
Audi A1 has received a stylish tuning package from Senner Tuning. There is also a performance package for 1.4 TFSI S-Tronic version. So, the small hatchback gets better impression of handiness and agility.
The styling package includes  shining black radiator grille, a new front apron with front lip and duotone side sills. There is also a rear apron, which is specially modified for the two exhaust tubes endings on the left and right.
Senner A1 stands on enormous 9J x 19" racing white Barracuda Tzunamee rims with Vredestein Ultrac Sessantra 225/35R19 XL tires. The stance is granted by an KW Coilover Variant 1 – height and stiffnes adjustable.
The 1.4 turbocharged direct-injected petrol is boosted to 165HP and 265Nm. The results are thanks to a carbon air box, sports exhaust system with 90 mm end pipe on left and right and some other mods.
Senner Audi A1 comes with SAT NAV, a xenon headlight kit + a media style kit, as well as a multifunction steering wheel. The interior also boasts two-tone upholstery and trimming as well as SENNER-Tuning foot mats with proprietary logo setting accents.
The complete package costs almost 10 000 Euro.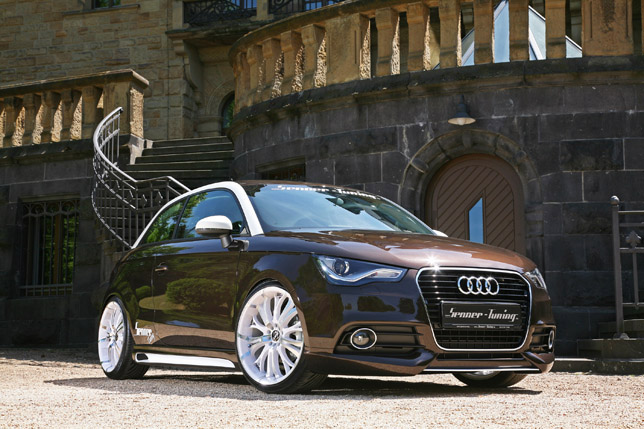 Source: Senner Tuning AG