Škoda unveils full specifications and prices for Yeti Monte Carlo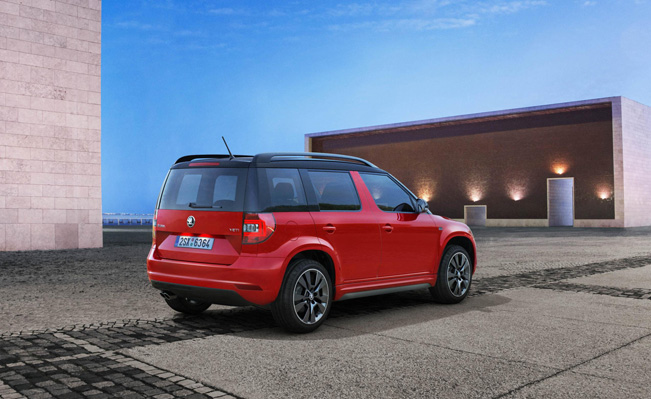 The Czech automaker Škoda Auto has announced full details and pricing for its Yeti Monte Carlo model – a new addition to the compact SUV car range that is full of extras.
The Monte Carlo addition to the Škoda Yeti shows that the car celebrates the long and successful participation of the Czech brand in global stage rallies. At the same time the Yeti Monte Carlo comes with a long list of design, comfort and convenience features. The vehicle is based on the Yeti SE equipment levels but offers additional extras and features such as a Monte Carlo signature black roof with black detailing on the front grille and spoiler, rear diffuser, door mirrors and 17-inch Origami alloy wheels.
In addition to all these extras purchasers of the vehicle will get black-tinted front fog lights, bi-xenon headlights with cornering function and dynamic angle control. On the inside the car comes with a three-spoke leather "Supersport" multi-function steering wheel, sports seats with unique Monte Carlo upholstery and exclusive design for the door sills, instrument cluster and floor mats.
The Yeti Monte Carlo gets powered by a 2.0-liter TDI CR DPF diesel engine with 170 horsepower (125 kW) and it also has a standard 4x4 transmission. You can have the Škoda Yeti Monte Carlo with a six-speed manual or DSG sequential automatic gearbox. In the UK the first version costs GBP 24,390, while the second version sells for GBP 25,490. The manual version achieves 49.6 mpg (UK) or 5.7 liters per 100 km with 149 g/km of carbon dioxide emissions and 0-62 mph (0-100 km/h) time of 8.4 seconds. The automatic gearbox model offers 44.8 mpg (UK) or 6.3 liters of fuel consumption per 100 km at a cost of 164 grams of carbon dioxide per km and 8.6 seconds of time for reaching 62 mph/100 km from being still.
Source: Škoda Auto