SkyActiv-G 1.3 by Mazda
Mazda Motor Corporation has continued to develop superbly efficient SkyActiv engines. The new one is a small 1.3 liter direct injected petrol, which will be unveiled at the Automotive Engineering Exposition that will be held from May 18 through 20, 2011, at the Pacifico Yokohama convention center near Tokyo, Japan.
The new SKYACTIV-G 1.3 features a record high compression ratio of 14.0:1, direct-injection, piston cavities and multi-hole injectors. With these technologies, the engine achieves fuel economy of 3.3 litres per 100 km.
SKYACTIV-G 1.3 deliver 84PS (62kW) at 5 400RPM, 112Nm at 4000RPM and will power the facelifted Mazda Demio. The small city car comes with i-stop and CVT gearbox.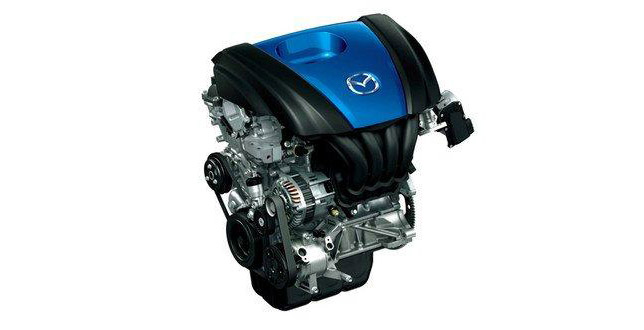 Main features of the SKYACTIV-G 1.3 engine
Highly efficient automobile gasoline engine and the world's first to achieve a compression ratio of 14.0:1
Multi-hole injectors enable precise fuel injection control for ideal combustion
Mazda's first dual sequential valve timing system (dual S-VT with electronically-operated intake) in combination with the high compression ratio achieves an unconventional Miller cycle (extremely delayed closure of intake valves) that improves efficiency
Compact combustion chambers have a longer stroke for better efficiency
Piston cavities are specially designed to support ideal combustion
30 percent less mechanical friction, due to a narrower crankshaft, new roller followers and low-tension piston rings that also reduce oil consumption
Various countermeasures to prevent knocking, including a cooled EGR system
An updated version of Mazda's innovative idling stop system, i-stop, improves fuel economy by eight percent. It operates with a higher frequency, requires less fuel to restart, and achieves a smoother restart
A lightweight and highly rigid aluminum alloy engine block
Major specifications of the SKYACTIV-G 1.3
Inline four-cylinder 1.3-liter direct-injection engine (with i-stop)
Engine displacement: 1.298?
Bore and stroke: 71.0mm x 82.0mm
Compression ratio: 14.0:1
Maximum output (net): [email protected],400rpm ([email protected],400rpm)
Maximum torque (net): [email protected],000rpm
Source: Mazda