Smart and JBL Engineers Squeezed 5727 Watts In ForTwo!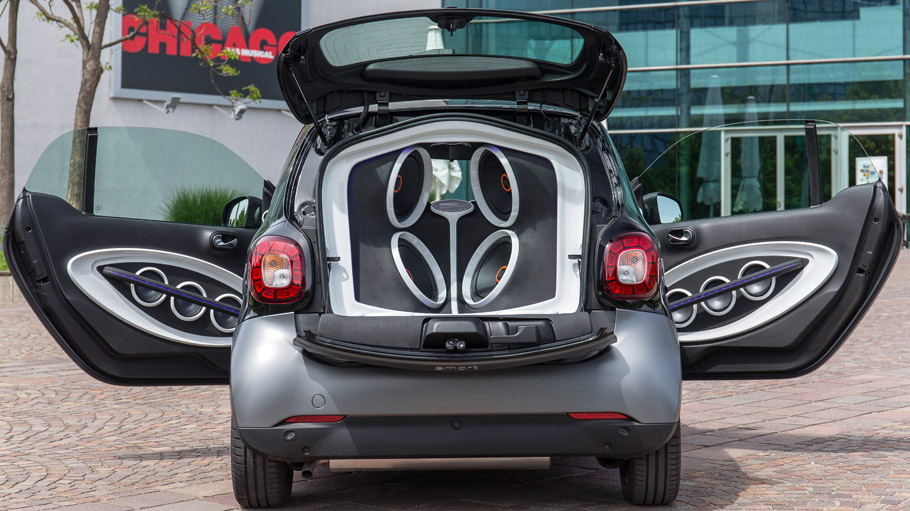 Smart and JBL brands showed the world, that you can create a concert hall in a Smart car. The cooperative work of both brands managed to squeeze the incredible 5720 watts in  Smart ForTwo. Everyone knows how good the small cars are. But no one knows how good a small car with crushing audio force is. And this is not all: the engineer team created a mobile amplifier, especially designed for street musicians and live concerts.
A total of five amps are placed in the Smart, that provide incredible sound pressure of 150dB, that are further reinforced by not one, but two subwoofers.  The incredible system comes with a total of 16 loudspeakers, that are especially designed to focus on a certain frequency to ensure highest quality audio experience.
SEE ALSO: Krumm-Performance Uprates MINI John Cooper Works [VIDEO]
All music signals are provided by a digital signal processor (DSP), especially created by the Italian specialist Mosconi. This processor has eight output channels and via Bluetooth streaming it can process different file formats like Wave or Flac, MP3s and numerous more. The signals are delivered from mobile devices and the result is crystal-clear-high-end sound.
And now the question, that everyone is asking: how did the team managed to squeeze squeeze 16 speakers, 2 subwoofers and 5 amplifiers inside ForTwo!? The design of the audio system is integrated in the smart design idiom. Take for example the ventilation opening and the dashboard: they serve as visual model for incorporating the speakers. Other example is the place for the two subwoofers: they are strategically placed in the luggage compartment. In general, all the audio system components are so well designed and so well placed within the ForTwo, that somehow people might start thinking, that this is completely natural way of the Smart to be.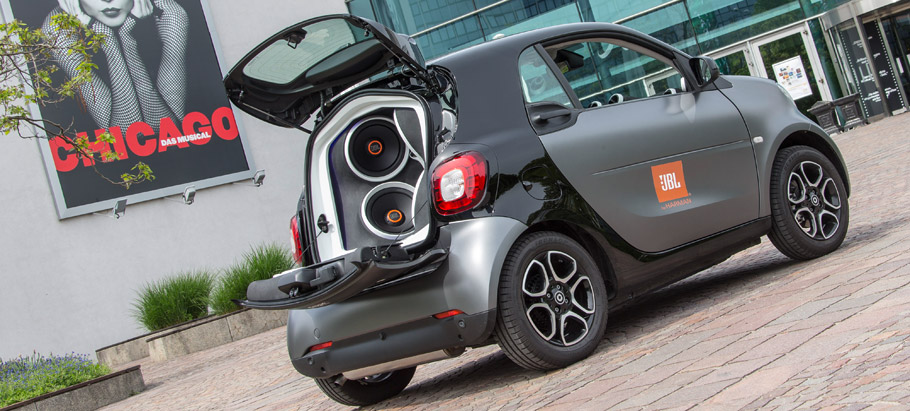 Source: Smart