Special Edition Mazda Atenza Sedan Released in Japan
Mazda Motor Corporation has announced the launch of the '2.0 Style Edition' Mazda Atenza (known as the Mazda6 overseas) sedan. This special edition model is equipped with sporty and high quality features and goes on sale today at all Mazda and Mazda Anfini dealerships throughout Japan.
The 2.0 Style Edition Mazda Atenza is based on the Atenza 20C model grade, which is powered by a 2.0-liter engine. The special edition version comes with sporty, top-grade features. These include LED indicators embedded in the door mirrors, discharge headlights, 17-inch alloy wheels, and a leather-wrapped steering wheel and shift knob.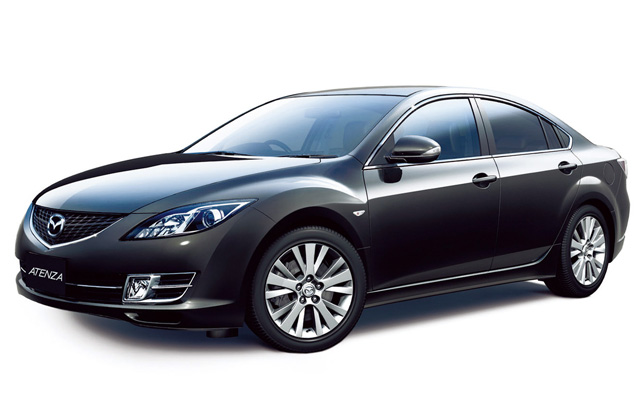 Main features of the Mazda Atenza Sedan 2.0 Style edition
Base model Atenza Sedan 20C (front-wheel-drive model with 2.0-liter DOHC engine and 5-speed automatic transmission [Activematic])
Special equipment -    LED indicators embedded in the door mirrors -    Front fog lights (built into the bumper) -    Discharge headlights (with auto leveling function on low beam) -    Water-repellant coating (windshield, front windows and door mirrors) -    Dark tinted glass (rear doors and rear window) -    215/50R17 91W tires and 17-inch alloy wheels -    Leather-wrapped steering wheel and shift knob -    Blackout meters (the dashboard and instrument panel dials are visible only when the engine is engaged.) -    Audio-less specification with four speakers (to best match each driver's needs, the Atenza is equipped with four speakers and a space for a head unit in the center panel. The steering wheel is also free of remote control switches. The Audio-less spec allows for maximum variety of audio systems.)
Body colors A choice of six exterior body colors is available, including Lilac Silver Metallic, one of the most popular colors for the Atenza Sedan, and Stormy Blue Mica, which reflects the model's sporty and high quality character. Neither color is available for the base model Atenza Sedan 20C.
Manufacturer's suggested retail prices
Model

Engine

Drive

Transmission

Price (yen)

With tax

Without tax

2.0 Style edition

2.0L DOHC

FWD

5EC-AT

2,200,000

2,095,239
-A separate recycling fee of 13,230 yen is necessary in addition to the manufacturer's suggested retail prices listed above.