SpeedART SP91-R
SpeedART, the German tuning house are now promoting their latest product: SP91-R sounds like a Windows update but it actually is a performance kit for the new 911/991 Carrera S. The package is due to come in March during the 2012 Geneva Motor Show but one can tell that SpeedART are eager to share with what exactly is SP91-R
Lets start off with the power – 911's usually do not fall short of it but SpeedART have decided to throw in a bit more just to be safe. An ECU upgrade and a modified exhaust system that includes sporty catalysts and manifolds results in a  25hp/20nm power increase. Driving enthusiasts can  go with the "very light" Titanium sport exhaust systems while underaged customers can also opt for a  sound switch function on the pipes for that extra grunt and character.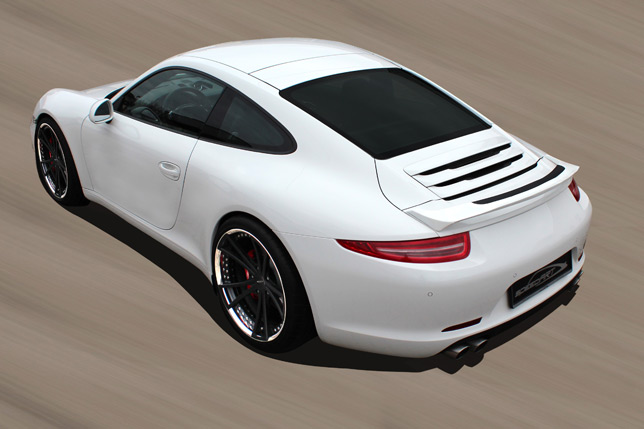 Aerodynamic tunes include an SP91-R bodykit. The one shown here is the subtle version of the wider and more aggressive one planned for the Geneva Motor Show. The new CS-rear wing is crafted in a way so to fit perfectly on the original stock 991 Carrera one. The whole kit seamlessly clips on to the already existing design line yet it gives the Porsche a completely new feel.
Inside, a feast of Alcantra and leather unravels itself as we notice the sporty steering wheel and the flappy-paddle shifters which complete the picture
Other modifications see "modular LSC- FORGED" wheels added which come in sizes 20'' and 21''.  A modified suspension set up will improve track behaviour and with the addition of an airlift system for rising and lowering the nose, urban environments will also be tackled.
Source: speedART