2012 SR Ferrari 458 Italia: Project Refined Beauty
2012 SR Ferrari 458 Italia: Project Refined Beauty is in fact the second transformation done on Ferrari 458 Italia by SR Auto Group. The previous one carried the project name "Era" and has already captured many hearts. Of course, the fascination for this amazing vehicle is one hundred percent understandable.
The Ferrari is equipped with four and a half liter V8, which delivers 570 horsepower (420 kW) at 9000 revs and 540 N/m (400 lb-ft) at 6000 rpm. In addition, the fact that the 458 Italia, compared to other super sports cars, is a featherweight – 1380 kg, and it has a power-to-weight ratio of 2.42 kg/hp results in acceleration from 0 to100 km/h in less than 3.4 seconds. Its top speed is of top 325 km/h.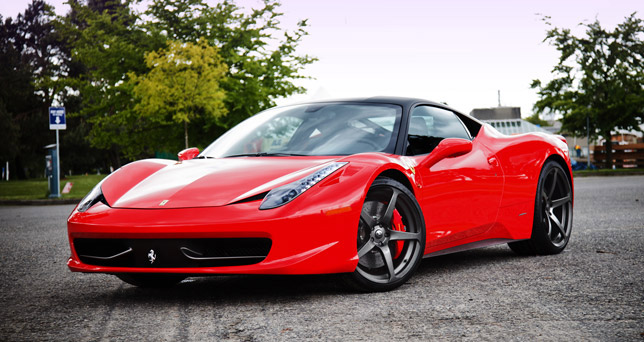 Like everything else the interior is exceptional as well. The ergonomics are perfect and the main controls are all clustered on the steering wheel. This car is the proof that Ferrari can make extraordinary cars from every single point of view.
SR Auto Group has refined the beauty of this ravishing pieces of work with the help of CEC Wheels. And now it could be said that function and form are paired perfectly together. The wheels have c884 design, which includes a modern twist on the classic five spoke design. The open five spoke wheel allows the signature red calipers to shine bright and complement the exterior color of the Ferrari.
Source: SR Auto Group