TechArt Porsche Panamera GrandGT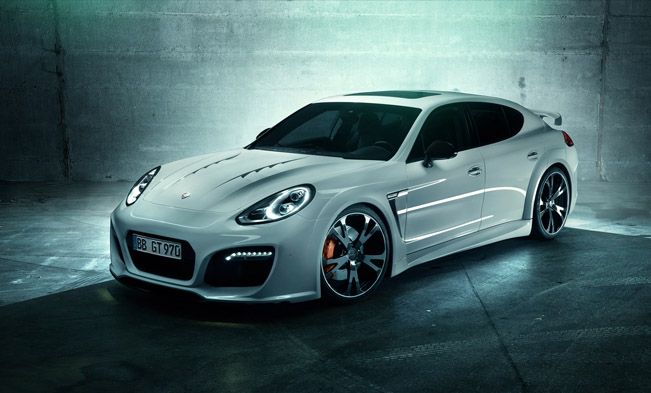 TechArt has revealed their latest project based on Porsche Panamera Turbo Facelift. The name of the project is GrandGT and it includes styling and performance modifications.
The TECHART Aerodynamic Kit for the new Porsche Panamera models fulfils requirements for three core elements: stability, aerodynamics and design. The exterior package, made from a lightweight fibre composite of carbon and polyurethane RIM, is distinguished by product features that are predominantly for use in motor sports where they can express their high levels of load-bearing capacity and dimensional stability with a low tare weight.
Other highlights are modified headlights, carbon fiber hood with additional vents, bigger side skirts, wheel arch extensions, roof spoiler, rear apron with air vents and a diffuser.
The tuning company has installed a custom stainless steel quad exhaust setup optionally available with integrated valve control. There are different sizes of wheels ranging from 20" to 22" fitted with proper performance tires.
The interior boasts dual 7" displays, a three-spoke steering wheel, leather upholstery, fold-away tables and carbon fiber inserts.
Porsche Panamera Turbo Facelift is powered by a 4.8 liter twin-turbo V8 with 520HP (388 kW) at 6,000RPM and 700Nm (516 lb-ft) at 2,250 RPM. TechArt offers an ECU re-map boosting the engine to 580HP (432 kW).
TECHART TECHTRONIC Engine Management: •    significant increase of performance and driving dynamics •    activation by pushing the Sport button at the centre console •    quick and easy installation, trouble-free deinstallation at any time •    intelligent electronic power management •    highest material quality and fulfilment of OEM specifications •    does not affect vehicle diagnostics or servicing •    does not affect electronic engine protection features
Source: Techart