The All-new Mazda CX-3 Crossover SUV Debuts at the 2014 Los Angeles Auto Show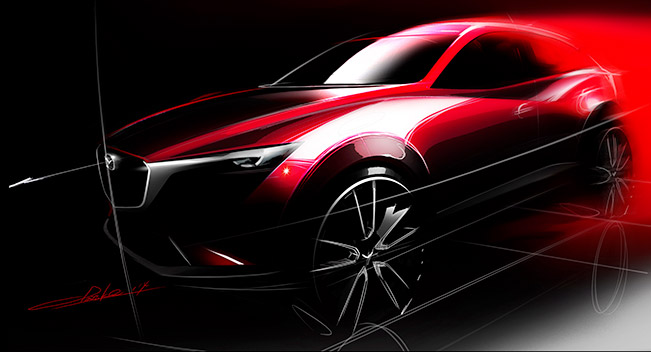 The Japanese brand Mazda obviously loves teasing because so far there is nothing else to see about their all-new baby Mazda CX-3 apart from a sketch. Not that their followers are not thankful. They are, but they want more. And they want it now! The already revealed image is scarcely enough to satisfy their escalating expectations.
Yet, the waiting will not continue for too long, obviously, for Mazda has officially announced that the CX-3 SUV is going to premiere at the Los Angeles Motor Show which will be running from November 21 till November 30, 2014. Voila, Mazda fans! You will finally get what you have been so eagerly awaiting for.
Mazda CX-3 is becoming a part of the auto-manufacturer's growing crossover SUV collection which is also comprised of CX-5 and three-row CX-9 models. The brand-new five-door CX-3 model will feature the same full range SKYACTIV TECHNOLOGY and the evolved KODO—Soul of Motion design. Additionally, the new crossover is expected to be based on the same modular underpinnings as the present Mazda2, Mazda3, Mazda6 and CX-5. Finally, the new CX-3 is believed to feature 1.5-litre four cylinder engine with an option of six-speed manual or automatic transmissions.
What is more, the all-new Mazda MX-5 two-seater open-top sports car (Mazda Roadster in Japan) will debut at the Los Angeles Auto Show as well. This model will be fitted by either a 1.5-liter or 2.0-liter SKYACTIV-G gasoline engine. North American-specification models will only be powered with the SKYACTIV-G 2.0 gasoline engine.
Source: Mazda