Toyota Avensis 2.0 D-4D TR: Pence-per-mile - 49.64p
2012 Toyota Avensis 2.0 D-4D offers unique pence-per-mile performance of just 49.64 pence or £29 781 for 3 YEARS / 60 000 MILES. The family vehicle also has low emission, good dynamic performance, extra equipment and last, but not least sharp new styling.
The new D-4D engine delivers the same amount of power – 124bhp (92 kW), but it has improved combined cycle fuel economy by 15% and a 14% reduction has been achieved in CO2 emissions. In figures this means 61.4 mpg and 119 g/km.
The revision includes a new turbocharger with lower friction bearings and an electric actuator. The torque characteristics of each gear have also been adjusted and as a result, drivers enjoy greater torque at low speeds.
Improvements in engine cooling and lubrication and the use of low rolling resistance tyres have helped cut the CO2 exhaust emissions, along with new glow plug control, changes to the diesel particulate filter and a new piston bowl shape that allows for improved combustion performance.
The new 2012 Avensis benefits from changes to the front and rear suspension. Adjustments have been made to the aerodynamics and strategic use of extra insulation material has further reduced NVH levels in the cabin.
Particular attention has been paid to the electric power steering, which adopts a quicker gear ratio, giving more direct performance, making the car more agile and manoeuvrable.
The focus on comfort extends to changing the design of the front seats to offer better lateral support.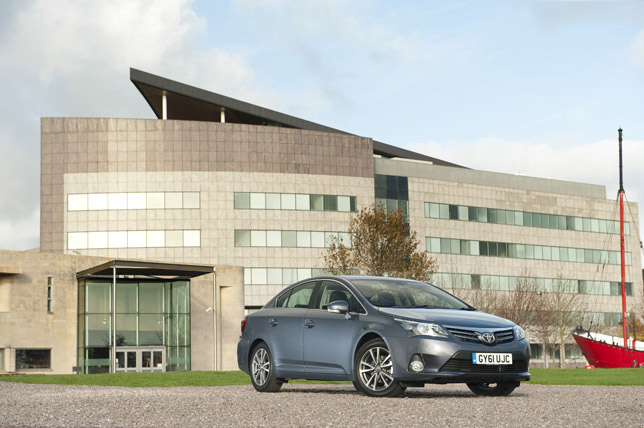 One of the most important things is the cost of ownership and the new Avensis 2.0 D-4D TR offers best-in-class pence-per-mile performance. This combines with the new model's higher equipment specification to make it a very attractive proposition for business customers, delivering significant savings compared to rival models in terms of both tax bills and the features you get for your money.
2012 Avensis comes with SAT NAV as standard, advanced connectivity and information features included in the Toyota Touch & Go system.
Overall, the new Avensis 2.0 D-4D cuts the cost-of-ownership bill by £2 000 compared to the previous model thanks to the improved residual values, fuel economy, CO2 emissions and service, maintenance and repair costs over three years/60 000 miles.
Pence-per-mile performance
| | | |
| --- | --- | --- |
| MODE | COST PER MILE | 3 YEARS/60,000 MILES TOTAL COST |
| Toyota Avensis 2.0 D-4D TR | 49.64p | £29,781 |
| Volkswagen Passat SE 2.0 TDI Bluemotion Tech | 51.12p | £30,764 |
| Ford Mondeo Zetec 2.0 TDCi | 51.72p | £31,031 |
| Hyundai i40 Style 1.7 CRDi | 52.33p | £31,398 |
| Vauxhall Insignia SRi 2.0 CDTi | 56.63p | £33,980 |
| Honda Accord ES 2.2 i-DTEC | 57.89p | £34,736 |
Source: Toyota