Toyota Previews Second FT-1 Sports Car Concept [VIDEO]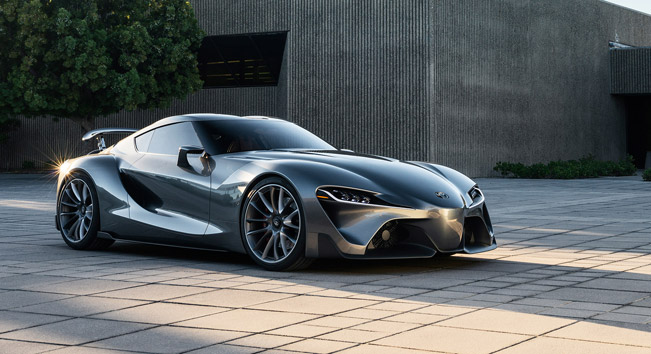 Toyota showed recently a second interior styling and exterior colour for an upscale interpretation of the breath-taking FT-1 sports car concept. It was developed by Calty Design Research in Newport Beach, California. The vehicle, which features graphite exterior paint and light-coloured leather accents, was on display for the first time at the Gordon McCall's Motorworks Revival gala held on California's Monterey Peninsula.
When the original FT-1 concept ignited enthusiasts with its January debut at the North American International Auto Show, it carried bold red exterior color scheme. This second version impresses with sophisticated graphite.
In terms of interior, the first car was dominated by bold, masculine black that kept the driver focused on the road. There were also red painted edges and raw metals which provided intriguing accents.
In contrast, the second FT-1 Concept includes natural leather accents on the seat which are supple with an all-natural grain. In addition, the painted edges that are red in the first concept are now subtly blended brown in the second.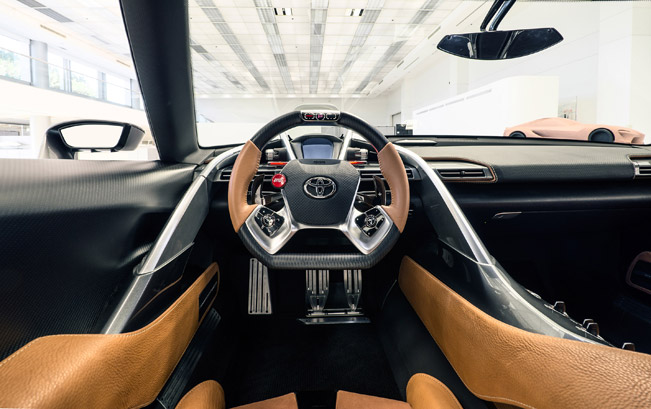 The Calty creative designer, of the interior, Sellene Lee, drew inspiration for the FT-1 interior from the modern, high-tech performance materials used for today's superhero costumes. In order to achieve the FT-1's advanced-looking and detailed interior, Lee and her team compared leather accent thickness, grain size and texture to find the perfect combination.
For instance, the chosen raised metal mesh delivers ventilation for the seats and at the same time gives more textural, bold effect that beautifully matches with the metal accents. A dimensional embossed pattern on the instrument panel brings in a 3-D, technical look.
Another exclusive news regarding the FT-1 is that this September it will be available for download for the Gran Turismo 6 (GT6). Just like the red version of the car, the graphite FT-1 concept will also roar onto the GT 6 racetrack as a downloadable vehicle for a limited time.
What is more, for the celebration of the 15th anniversary of the Gran Turismo series, Calty has also designed an ultra-high-performance race version of the FT-1 that inside the game is called "Toyota FT-1 Vision GT". You can take a look how it came to life by watching the video below.
Video Source: YouTube
Source: Toyota