This Toyota Sienna R-Tuned Concept Outpaces the Camaro SS?

Believe it or not, this Toyota Sienna R-Tuned Concept equipped with its stock engine and transmission can outpace the powerful Camaro SS. The minivan was specifically modified for the SEMA Show in order to attract the public with its almost unbelievable capabilities. But who needs to turn a Sienna minivan into a performance vehicle? The answer: Toyota Technical Center and the specialists at championship-winning performance shop DG-Spec.
If you wonder about the reason for the creation of this strange project, well it was the challenge. The challenge to do the unexpected. It seems far easier to make an LFA supercar go fast around a racetrack, but no one expects to see a Sienna coming.
SEE ALSO: Toyota Back to the Future Mirai Concept or Who Brought the Outdated Gullwings Back?  
Both parties have modified the stock Sienna SE "Swagger Wagon" and made it look and perform bad-ass crazy! They have added brand new performance tires, wheels, brakes, double-adjustable shocks with racing springs, and a clutch-type limited-slip differential. These additional parts deliver radically enhanced performance of the vehicle.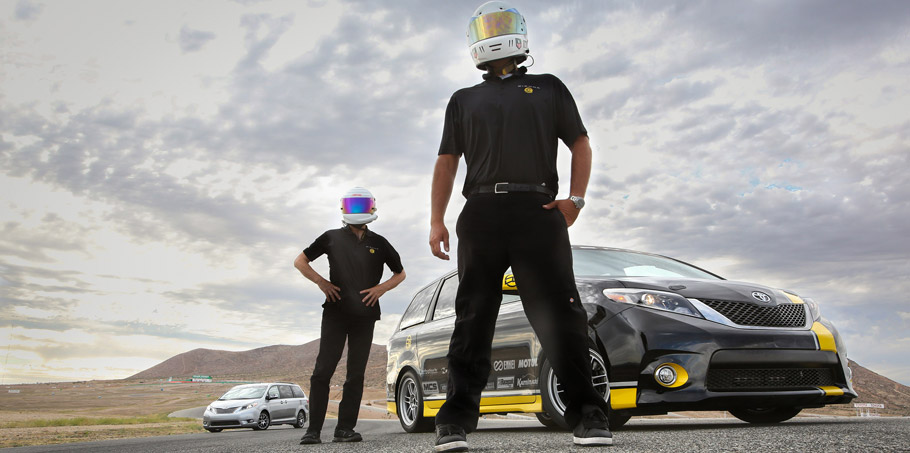 And can you believe that as a result, the concept, powered by its serial 3.5-liter V6 engine mated with a six-speed automatic, outpaces even the 6.2-liter V8 Camaro SS on the test track? A strong proof is that at the Streets of Willow Springs the concept turned a blistering 1:27 lap time, sailing past the 6.2-liter V8 Camaro by a full second around the 1.7-mile sports car course. What is more, the Sienna R-Tuned can not only be driven by a professional driver. Casual drivers also tested the car and they were truly surprised at how easy it is to drive. In fact, people felt more confident and more in control behind the steering wheel.
If this seems intriguing to you, then you can see the Sienna R-Tuned concept at the SEMA show until tomorrow. Toyota's booth is #24700 and it is located in the Central Hall of the Las Vegas Convention Center.
Source: Toyota