Toyota TS040 Hybrid Race Car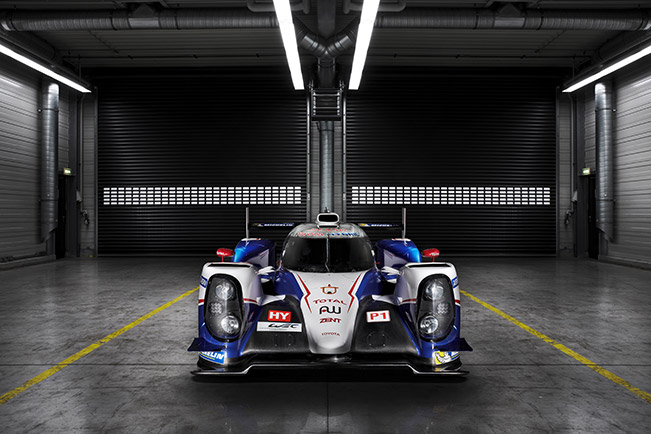 Toyota Racing has unveiled the new 2014 TS040 Hybrid Race Car, which will compete in FIA World Endurance Championship. The new car, revealed today at the Paul Ricard circuit in the South of France, represents the most advanced hybrid technology in modern racing. Tomorrow it will begin an official championship test session, prior to making its competition debut at the season-opening Six Hours of Silverstone race on 20 April.
The drivetrain includes a 480HP (353 kW) all-wheel drive hybrid boost and 520HP (383 kW) 3.7 liter V8 petrol engine. The overall power is exactly 1,000HP (736 kW), so the rival manufacturers Audi and Porsche should be very concerned.
The new powertrain has been developed in line with revised WEC technical regulations, which put an emphasis on fuel economy. Teams are required to use 25% less fuel than in 2013, with savings achieved through changes to powertrains, aerodynamics and driving style. By adopting more road-relevant technology, the WEC will increase the possibilities for the transfer of Toyota's race-bred technical know-how to its production cars, strengthening is status as the world's leading manufacturer of hybrid vehicles.
Toyota Racing have made gains in efficiency and performance by using specialist lubricants they have developed with their official partner, Total. The more open regulations have also allowed the team to engineer a major increase in hybrid power, using a new motor-generator on the front axle in addition to the unit at the rear. Under deceleration, these motor generators apply braking force in combination with the traditional mechanical brakes to harvest energy, which is then transferred via an inverter to a super-capacitor. When the car accelerates, the motor-generators reverse their function, delivering a power boost to all four wheels.
2014 FIA World Endurance Championship Calendar:
| | |
| --- | --- |
| 20 Apr | Six Hours of Silverstone (GB) |
| 3 May | Six Hours of Spa-Francorchamps (Bel) |
| 14 Jun | Le Mans 24 Hours (Fra) |
| 20 Sep | Six Hours of Circuit of the Americas (USA) |
| 12 Oct | Six Hours of Fuji (Jpn) |
| 2 Nov | Six Hours of Shanghai (Chi) |
| 15 Nov | Six Hours of Bahrain |
| 30 Nov | Six Hours of Sao Paulo (Bra) |
Source: Toyota