Two Flexifuel (E85) Volvo models launched in Thailand
Volvo Car Thailand presented the Volvo C30 1.8F (Flexifuel, E85) and Thailand's first and only locally produced Flexifuel car the Volvo S80 2.5FT at Bangkok Racing Circuit 26th November. The Minister of Energy, Dr. Wannarat Charnnukul, and the CEO's of PTT, BCP, Mitr Phol, PetroGreen and the Ethanol Producers Association were amongst many other VVIP guests.
During the launching event of the flexifuel cars Volvo Race Team's Driver, Robert Dahlgren, attended the racing circuit with his STCC (Swedish Touring Car Championship) racer, a Volvo C30 Flexifuel. The guests were invited to a white knuckle hot-lap professional driving demonstration in this bioethanol-powered car at full race speed.
It is a key step in Thailand's development towards a more secure energy future through the promotion and use of less polluting and more importantly renewable biofuels made from home-grown agricultural produce. Embraced by the people, businesses and the government, renewable local biofuels will save more money for Thai motorists and reduce the Kingdom's economic burden from the need to buy foreign oil which last year accounted for some 9 percent of GDP.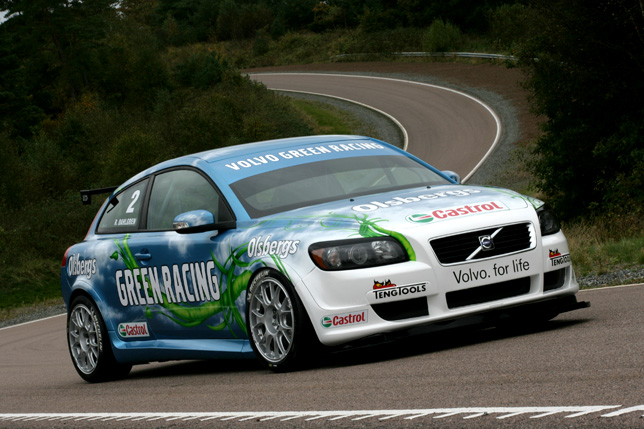 This announcement comes in parallel with the efforts of Ministry of Energy, PTT Plc and Bangchak Petroleum to sell E85 gasohol commercially. The two Flexifuel cars Volvo S80 2.5 FT and Volvo C30 1.8 F will make their public sales debut during "Motor Expo 2008" from November 28, onwards.
Mr. Paul Stokes, President of Volvo Car Thailand, said; "For Volvo, environment has been a core value of our brand for decades and so we have always fully supported the efforts of the Royal Thai Government, and particularly the Ministry of Energy in advancing renewable biofuels with an aim of energy security for Thailand from the very beginning. Today, Volvo announces yet another milestone in this journey as we will be the first car company to produce E85-compatible Flexifuel cars locally here in Thailand."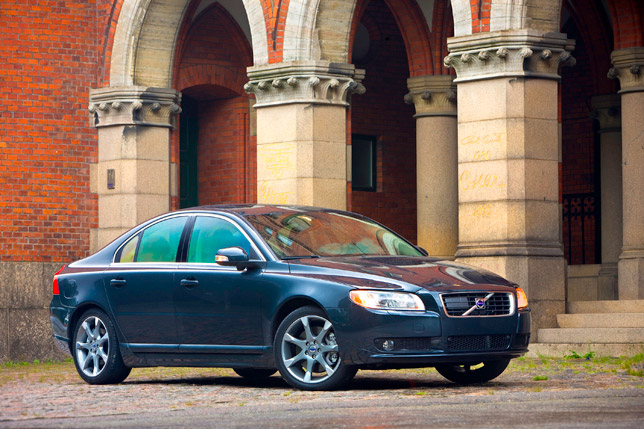 Dr.Wannarat Charnnukul, Minister of Energy, said "The government holds as a main policy to promote the use of alternative energy no matter what change happens to the oil price. The higher mixture of ethanol in gasoline would reduce the country's reliance on crude oil imports and reduce the cost of living. It would also strengthen the country's long-term energy security and economy. Over the past several months, we have deeply appreciated the friendly cooperation from Volvo in supporting the government's energy policy. I think Volvo S80 2.5 FT will be another compelling choice for Thai motorists."
The Volvo S80 is the second generation of Volvo's large prestige sedan sculpted with timeless Scandinavian design and brimming with world-class safety. The Model Year 2009 is no exception, adding both Volvo's Blindspot Information System (BLIS); Lane Departure Warning (LDW) and Driver Alert technology to the locally made versions alongside the keyless drive Personal Car Communicator (PCC) and much more already in place. And now the bioethanol 2.5 FT flexifuel engine has been added to the line-up.
"It really is time for the critics of the E85 project to open their eyes, and see that this is, right now, the right choice for Thailand and that with fuel stations being opened by both PTT and Bangchak and now with both large and small, imported and locally produced cars available, businesses and consumers can make the intelligent and responsible choice for both the environment and the Kingdom with confidence." said Paul Stokes. "From race-track to road-going reality, with proven E85 Volvo Flexifuel technology, I believe the Flexifuel models of Volvo S80 and C30 will receive a good response from both Thai business and individual consumers." he added.
"To produce E85-compatible cars and launch two E85 models - the locally-made Volvo S80 2.5 FT E85 and the fully-imported Volvo C30 1.8 F E85 - here in Thailand, we believe it will be a great opportunity to encourage Thai consumers to become more and more aware about the importance and benefits of alternative energy for both the country and Thai people. The fuel price may tend to go down at the moment, but it always rises in the longer term so it is surely better for Thai motorists and businesses to prepare themselves by using fuel that can renew by local agricultural products and help reduce the country's dependence on imported oil." commented Khun Isara Vongkusolkit, President, Mitr Phol Sugar Corp. "We've already placed an order for over 25 Volvo S80 to show that Mitr Phol Group is committed to the best action for the environment."
The Volvo models will be presented at "Thailand International Motor Expo 2008" at Challenger Hall, Muang Thong Thani.  The event runs from November 28, to December 10, 2008.