2012 Vilner Infiniti EX37 - The Modern Crossover with Оld School Interior
For the first time this year we have news from the tuning company VILNER. Now, those excellent tuners have prepared for us a modification of the interior of the Infinity EX37 which will leave us speechless! While making the luxury interior, Vilner has used high-quality, expensive, and mostly unpopular materials.
For example take a look at the seats, the doors, the lower part of the panel, the hoods and the gearshift – they all have been "dressed" in aniline leather, which is incomparably mild and pleasant to touch. Furthermore the material is extremely fine and more importantly there is no chemical treatment or dying on t! And just see the design of the seats – doesn't it astonish you! It is definitely something you can't see everyday. At their upper part the bands made from aniline leather create oval forms. And in contrast in the middle and the lower part they are vertical and wider. An accent here is made by the engraved with the "Vilner"'s logo asymmetrically positioned band (made from the same material), which can also be seen at the muff of the gearshift (which is also engraved with the logo). An interesting fact, used in the tuning here, is that through the exploitation of this leather as a result there is a beautiful patina. This undeniably adds more to the Old School character of the interior.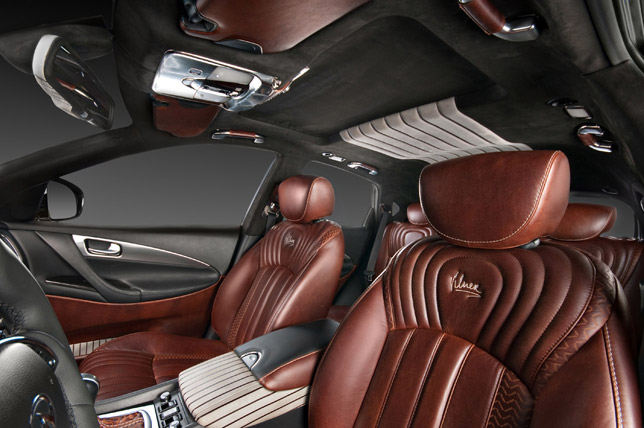 2013 Vilner Infiniti EX37
To go further into details, the needlework is light and bright. In contrast the ceiling and the console of the steering wheel are made from a high-quality nabuck - Аmaretta®. It also has those distinguished details made from the fine bands VideoFlex Film Extra®. Can you imagine that even the rearview mirror is fashionably dressed in Аmaretta®? If you can't, well – see the pictures below!
The steering wheel is transformed by hand again in high-quality Napa in order to deliver more comfort, ergonomics and aggressive looks. In addition the luxury image of the vehicle is complemented by the chrome-plated parts of the steering wheel, the buttons for seats management, the ceiling handles, the protectors on the doors speakers and the plafond.
Wait, the great news isn't over! The Audio system included in this tuning is the one which won the first place on "EMMA Balkan Sound & Tuning 2011" in the class of the "Advanced 7 channels". In details, it includes the original Infiniti player, the processor "AudiSon" and the "Ground Zero" amplifier and speakers!
Moreover the coupe of the vehicle is additionally made noiseless in order to improve the overall comfort experience of the passengers and the driver, and of course – to deliver even greater sound experience.
Obviously for Studio Vilner every detail is of utmost importance. Hence, the perfect needlework and luxury materials have the most significant place in the creation of the interior. Well done Vilner! A great start of the year for you!
Source: Vilner