Vilner Mercedes Vito 120 CDI
Vilner has announced their new project. It is based on Mercedes Vito 120 CDI, which is turned to a real eye-catcher, instead of an ordinary family van.  The big vehicle received unique interior and some exterior modifications.
Firstly, the interior looking exactly like one in a private airplane. It features seats from Mercedes CL with mahogany armrests, luxurious tables and extra soundproofing. Other upgrades include an Amareta-covered rear-view mirror, an ergonomic steering wheel, and extra built-in chargers for mobile phone, a huge 19" LCD display, a hi-fi multimedia system, ambient lighting, a refrigerator and a minibar. Basically, it has whatever you need to feel comfortably during long trips across the country or the continent, especially with the superbly efficient diesel engine.
Mercedes Vito 120 CDI is powered by a 3.0 litre V6 common-rail turbodiesel engine with 204PS (150 kW) and 440Nm (325 lb-ft). From 0 to 100 km/h in 8.3 seconds and average fuel consumption of 9.2 litres per 100 km. Not bad specs for a family van!
Lastly, the exterior of Vilner Vito comes with a set of big alloy wheels fitted with lowprofile tires, Bi-xenon headlights with brows and LED daytime running lights.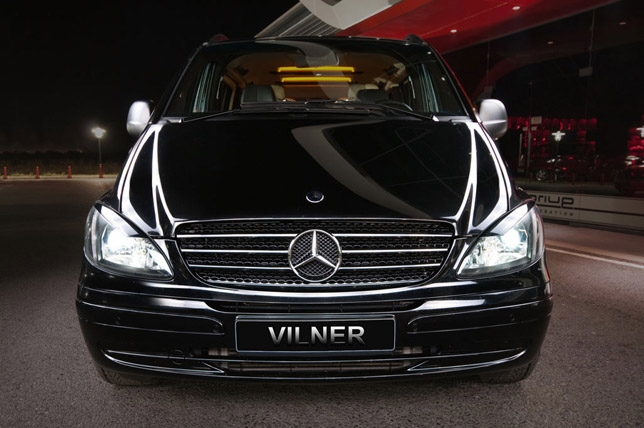 Source: Vilner