Volkswagen Golf GTD
Following the Polo, the BlueMotion initiative and the Golf GTI, Volkswagen is now spanning its next arrow in the bow: this time, the Golf GTD. With a powerful 125 kW (170 PS) TDI engine, it is aimed at diesel drivers who value the maximum in dynamics. The new GTD is extremely thrifty but at the same time extremely sporty. The GTD tag already has a tradition at Volkswagen: the first Golf GTD - the GTI among diesels - was built in 1982.
The new GTD is powerful and can boast of outstandingly low fuel consumption: the common-rail engine requires just 5.3 litres fuel per 100 kilometres. That corresponds to CO2 emissions of only 139 g/km. On the other hand, the car has a top speed of 222 km/h and accelerates to 100 km/h in 8.1 seconds.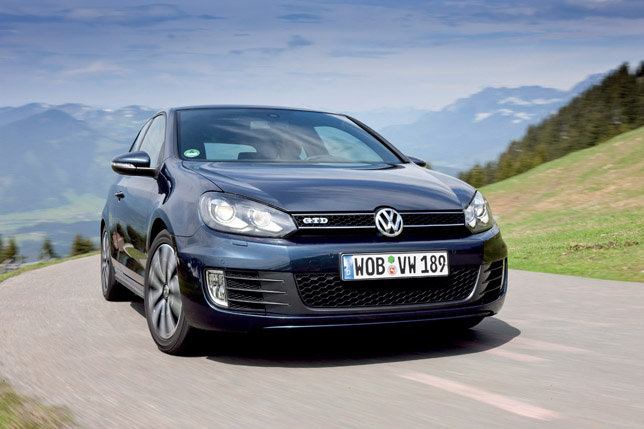 Like the GTI, the GTD will also offer, in addition to the 6-speed manual gearbox, an optional 6-speed DSG - the most efficient automatic gearbox of our time, in the opinion of many experts. Equipped with sport suspension and 17-inch alloy "Seattle" wheels, the GTD demonstrates that it shares GTI DNA on one hand through its extremely agile handling and, on the other, through parallels in appearance and equipment. The exterior announces unequivocally that it the sportiest diesel-powered Golf. The designs of the front bumper, the radiator grille and the headlights are identical to those of the GTI. However, the typical horizontal red strips in the GTI's grille are chromed on the GTD.
Volkswagen's GT philosophy has shaped the interior as well: top-of-the line sport seats in black and white as standard; a three-spoke steering wheel flattened along the bottom edge, a brake handle with a leather gaiter as well as light-grey seams to accent the leather handle; and a black moulded headliner are just a few of the GTD's distinguishing features. The base price in Germany is 27,475.00 Euros.
Volkswagen will be presenting the new Golf GTD as well as the entire Volkswagen range in Hall 1 of the AMI in Leipzig through 5 April. The show is open daily from 9:00 a.m. to 6:00 p.m.