2012 Volkswagen Golf GTI Cabriolet combines open-air motoring and great performance
2012 Volkswagen Golf GTI Cabriolet is officially available to order at the brands retailers. This particular model is being on the top of the Golf Cabriolet range.
This means that it combines the pleasures of practical and safe open-air motoring with great performance and on-road dynamics.
What is more, the 2012 Volkswagen Golf GTI Cabriolet comes equipped with all the classic design cues. For instance, the radiator grille has a honeycomb structure with red edging and GTI badge. At the same time the front bumper embodies a deep honeycomb air dam and distinctive fog lights.
In addition to all this are the side sill extensions which give the GTI Cabrio a wide and confidents stance. And the rear diffuser is framed by a chrome tailpipe on either side.
Next, the LED tail lights complete the look and make the cabriolet model even more appealing. For the great visual contribute the standard 18-inch 'Monza Shadow' alloy wheels.
What about the interior? Inside, one can four seats covered in the classic tartan "Jacara" cloth upholstery. This one comes as standard, while the "Vienna" leather upholstery is optional.
Moreover, the bespoke GTI multifunction steering wheel, the handbrake and gear lever gaiter are wrapped in leather. All are finished with contrasting red stitching.
It is also good to mention that the pedals have brushed stainless steel caps, while there are black 'Edge' decorative inlays on the doors and facia.
More importantly, the hood can be folded away in only 9.5 seconds. It has a black lining, while the roof pillar trims are also finished in black.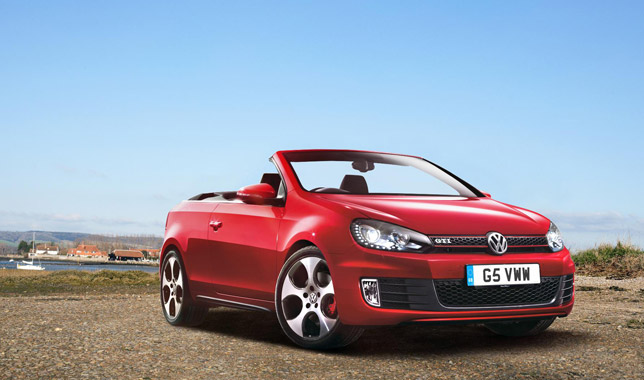 The engine information here is nothing surprising, because the GTI Cabrio comes equipped with the same 2.0-litre turbocharged four-cylinder petrol engine. The latter is mated to a standard six-speed manual gearbox as a standard. There is also a choice of an optional six-speed dual-clutch DSG gearbox, which produces 210 hp (155 kW).
Given these facts, the acceleration from 0 to 100 km/h is achieved in only 7.3 seconds with either transmission. This Volkswagen comes with top speed of 147 mph and combined fuel consumption - 37.2 mpg (36.7 DSG). The CO2 emissions number is 177 g/km.
To go further into details, the maximum torque that this vehicle can achieve is 206 lbs ft (280 Nm) and it is available from just 1,700 rpm to 5,300 rpm.
The safety of the passengers and the driver is delivered by a comprehensive list of standard specification: automatic rollover protection, front and side head/thorax airbags and a driver's knee airbag as standard.
In fact, the model got a five-star (96 per cent) rating for adult occupancy in Euro NCAP crash tests.
2012 Volkswagen Golf GTI Cabriolet is currently available to order with a starting price of £29 310.
Source: Volkswagen