Volkswagen Releases jeans up!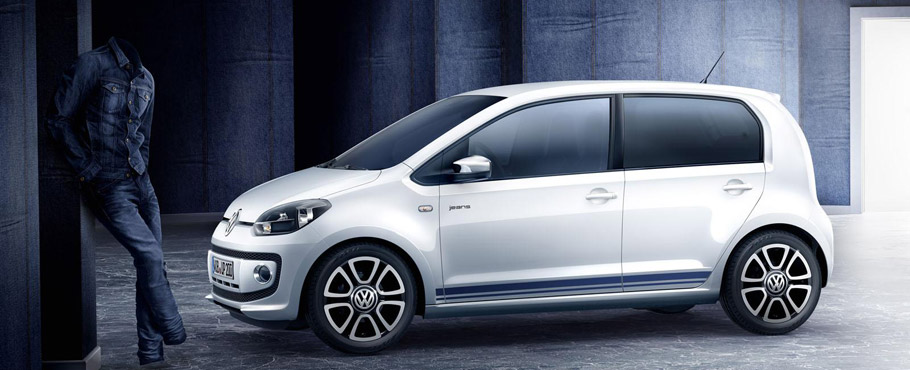 Volkswagen has just introduced a very interesting version of the up! model, called jeans up! The new special edition of the small city car is actually expanding the options for the super-compact four-seater. The jeans up! shows it individual characteristics via some exterior and interior tweaks.
First, the exterior of the car is dominated by athletic foil on the side panels. The car is distinguished from its siblings with the "jeans" lettering on the front doors. In addition, this mini VW also sports chrome-finished exterior mirrors and tinted rear and side windows that help in cases of strong sunlight. What rounds out the exterior details are the new 16-inch"black triangle" alloys and the fog lights surrounded by chrome.
Inside, the car gets as standard equipment a multi-function display and a cruise control. What makes this up! version even more individual are the seats and pockets on the backs of the front seats which have received a "jeans" look. There is also lettering in the door sill trims, carpet floor mats with colored stitching all throughout the cabin.
SEE ALSO: New Volkswagen Up! Model Goes Official
In addition, chrome has been added to the air vents, radio panel and instrument cluster for shinier look. At last, the finishing touches inside are added by the steering wheel and gearshift-lever that were wrapped in dark split leather.
In terms of engines, the jeans up! can be powered by any of the engines in the up! range, delivering an output  between 60 hp (44 kW) and 75 hp (55 kW). The trim level can be even added to the eco up! version, which is driven by a natural gas and has an output of 68 hp (50 kW) and very low fuel consumption.
The jeans up! is very nice, especially when equipped with the natural gas engine. Makes it perfect for stylish urban driving. Would you buy one?
Source: Volkswagen