Voltage-Design Mercedes-Benz S63 AMG Coupe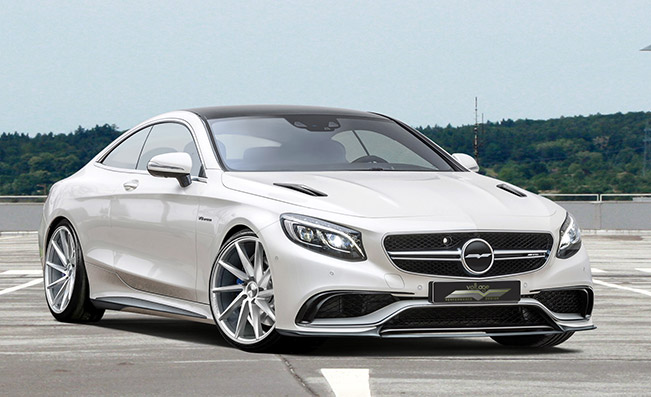 Voltage-Design has presented their latest project based on the all-new 2015 Mercedes-Benz S-Class Coupe and particularly on the powerful model S63 AMG. It comes with a number of upgrades including more power, improved braking system, level oriented chassis and performance exhaust system. The tuning company also offers different alloy wheels fitted with performance tires.
Voltage-Design also offers a complete aerodynamics package from carbon fiber including a new radiator grille, a front spoiler, front apron wings, air inlets mounted onto the bonnet, new mirror housings, a pair of side skirts, a tailgate spoiler and a distinctive diffusor. Optionally – an engine bonnet and a radiator grill are available from carbon fiber.
The S63 AMG Coupe is powered by a 5.5 liter bi-turbo V8 – 585HP (430 kW) and 900Nm (664 lb-ft) of torque. The power-to-weight ratio is 3.41 kg/HP. 0-100 km/h in 4.3 seconds and a top speed of 250 km/h (155 mph) – electronically limited.
However, Voltage-Design fitted new downpipes, new air filters, a sports exhaust system with valve command, modified manifold, charge air cooler and new turbochargers. The result is impressive – 800HP (588 kW) and 1,150Nm (852 lb-ft). Stage II includes bigger turbochargers – 850HP (625 kW) and 1,150Nm(852 lb-ft).
There is also a new bon-ceramic braking system with 4 piston calipers and 420/40 mm front discs and 370/32 mm rear. They are behind a new wheel-tire combination - Vossen CVT rims in silver metallic 9J x 22" at the front and 10.5J x 22" at the rear axle. Last, but not least are the adjustable coilovers allowing lowering between 10 and 35 mm.
Source: Voltage-Design