VW R GT Passat
The answers to those questions might very well be found among an intriguing trio of project vehicles built specially for the SEMA Show. The Jetta R GT, Passat R GT and Touareg R GT are not just flights of fancy branding. The badging on each of these one-offs tells a story of advanced platforms enriched with strategic applications of factory and aftermarket expertise.
HPA replaced the base 2.5-liter engine with a twin-turbocharged, twin-intercooled, 550-horsepower variant of VW's 3.2-liter, 240-horsepower six-cylinder V6 that powers the R32. To ensure that every bit of the torque gets to the ground in the most entertaining way possible, HPA fit VW's highly acclaimed DSG twin-clutch transmission and 4MOTION all-wheel drive, both systems suitably modified by HPA to complement the engine's bravura performance. A KW FIA GT 3-way coil-over race suspension and WRC-spec Brembo brake system were also installed to help harness the forces unleashed by the twin-turbo V6.
Cloaked with a special smoke gray paint treatment in the best Q-ship tradition, the revised coachwork includes new front and rear bumper fascias, side rocker panels and bespoke rear spoiler, offset by contrasting graphics and smoked glass treatment. The Jetta R GT's willingness to run is revealed by the huge Michelin ultra-high-performance tires mounted to the 9.5 x 19-inch custom-built, forged-aluminum, modular Avus® alloy wheels. Should the Jetta R GT hit the track, changing to a set of 9.5 x 18-inch mono-block, forged-aluminum DTM-spec Avus wheels is quick and easy with their DTM-style center locks and the AP Racing air jacks incorporated within the Jetta's framework.
Similar technology and design was applied to create the Passat R GT, born from a European-spec 2006 Passat 3.2 V6 FSI with DSG transmission and 4MOTION all-wheel drive. A rewarding runner in its own right, the European Passat 3.2's powerful engine, world-beating transmission and all-wheel grip provide an excellent basis for a SEMA special. The mechanical transformation by HPA resulted in dynamics that launch the Passat R GT into supercar dimensions, and its sleek, entirely modern bodywork was given the muscular look of a highly toned European high-performance sedan by Volkswagen designers.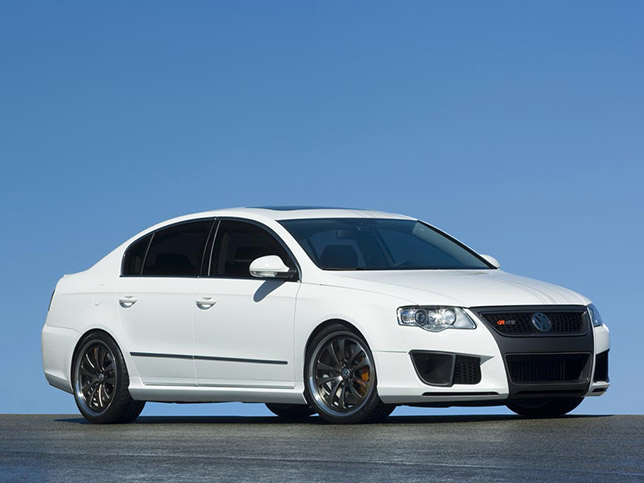 Modifications begin with a twin-turbo conversion package that features dual exhaust manifolds, each carrying a Garrett GT25R ball-bearing turbocharger. Charge cooling is optimized by twin intercoolers, and the exhaust gases pass through a quad bypass emissions system that retains the stock catalytic converters. It boasts an extraordinary output of 575 horsepower and massive torque to match.
The Passat R GT's track-prepped chassis is suspended by a KW Variant 3-way coil-over racing setup, and the required upgraded braking is supplied by the Brembo-supplied system available on the Phaeton. The Passat R GT rides on the same high-performance Michelin radials as fitted to the Jetta R GT, as well as the forged-aluminum Avus® alloy wheels. HPA also modified the DSG gearbox for more revs between each upshift to match the engine's increased output.
Volkswagen's California design studio chose gleaming candy white paint to clothe the modified bodywork, consisting of new front and rear bumper fascias and side rocker panels. Contrasting black leather cloaks the interior, offset by touches of white piano lacquer trim, a white Apple iPod® module up front and a white Sony PSP® in the rear. Of course, befitting a car that can cross Europe in hours, it features VW's highest-quality sound system and full navigation.