Latest Touran TSI EcoFuel has improved fuel range
VW Touran is a natural gas MPV capable of doing up to 670km on a single tank with fuel. A hundred kilometers in the Touran will cost around €4.50, really a very good value.
Touran is best selling vehicle in its class and the EcoFuel was logic extension to the model range for the MPV. Touran is also available with seven seats, which made the vehicle the best family car, offering satisfying comfort and very good safety.
The engine is 1.4 litre twin-charged 4 cylinder with direct injection delivering 150ps and 220Nm of torque. Touran TSI EcoFuel is equipped with 7-speed dual-clutch gearbox. The result is 0-60 in 10.1 seconds and fuel consumption of 4.6 litres per 100km.
The base price of Touran TSI EcoFuel is € 27,450, but the option list in enormous.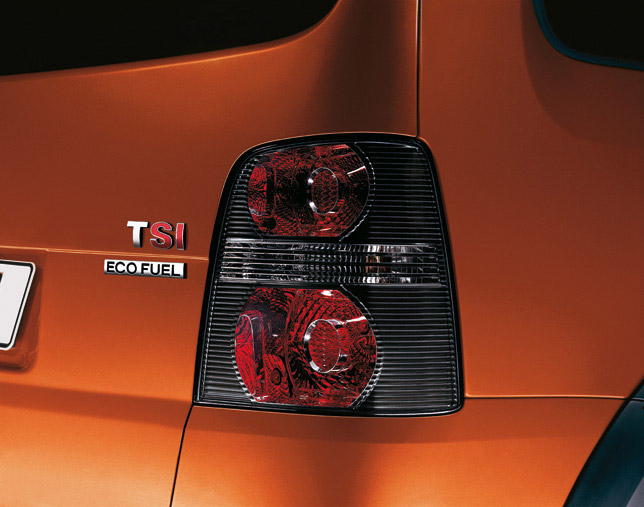 Full Press Release:
The Touran TSI EcoFuel now with an even longer fuel range
Natural gas MPV can now travel up to 670 kilometres on one tank In the Touran TSI EcoFuel, travelling 100 kilometres costs around €4.50
The multi-variable Touran TSI EcoFuel is a real crowd pleaser and belongs currently to Germany's best-selling vehicle in its class. The latest version is now available to buy with an improved fuel range. Thanks to an increased fuel tank capacity and improved efficiency, the vehicle, fitted with a quasimonovalent drive train, will cover up to 670 kilometres.
In natural gas mode, the increased fuel tank will have a range of approximately 520 kilometres and the 11-litre petrol reserve tank will add an extra 150 kilometres. Improvements to consumption and emissions levels have meant that the Touran TSI EcoFuel with a 7-speed DSG gearbox now consumes a mere 4.6 kg/100 km (126 g/km of CO2).
Calculated against current prices for natural gas, the Touran TSI EcoFuel can travel 100 kilometres for around €4.50. The natural gas tanks are built into the underbody to save space and now hold a total capacity of 24 kilograms (previously 18 kilograms) in the five-seater version. For the same price, customers can get a seven-seater version of the family vehicle whose fuel range reaches 520 kilometres (370 km for natural gas and 150 km for petrol).
Fans of a more sporty driving style will not be let down by the Touran TSI EcoFuel: its twin-charging turbocharger and supercharger propel the vehicle at over 110 kW / 150 PS. The 220 Nm maximum torque is available at just 1,500 rpm and can be maintained up to 4,500 rpm. The Touran TSI EcoFuel is available now at a base price of € 27,450.