Wiesmann Black Bat
The company SchwabenFolia in Korntal-Münchingen situated in Baden-Württemberg has created a unique Wiesmann MF5 V10 Roadster.  The project name is Black Bat and you can see, why! The tuned car comes with extra matte black exterior, door panels, engine room and the inner hood, as well as the trunk along with the inner flap are completely foiled.
Wiesmann-MF5 is powered by the brilliant S85B50 – 5.0 liter V10 with 507PS (378 kW) at 7750RPM and 520Nm (384 lb-ft) of torque at 6100RPM. The BMW's Performance engine of the Year  features cast aluminum block with bed plate design split at the crankshaft axis, cast aluminum heads with four valves per cylinder and CNC machined ports and combustion chambers. Valves are actuated through non-rotating inverted bucked cam followers. There are also oil-cooled, forged aluminum pistons from Mahle Motorsport, forged steel crankshaft with counterweights, shared crankpins producing an uneven firing interval of 90 or 54 degrees, double VANOS system which varies both intake and exhaust cam phasing,  10 individual electronically controlled throttle butterflies. The knock sensors have been eliminated by utilizing the "ionic current" measuring system. And finally a quasi-dry sump lubricating system.
After all this dry info, check out the performance – 0 to 100 km/h in 3.5 seconds and to 200 km/h in under 10 seconds. The top speed is more than 321 km/h (200 mph).
The Black Bat stands on enormous BBS forged alloy wheels 10J x 20" with 285/30 ZR20 tires at the front and 11.5J x 20" with 325/25 ZR20 on the rear axle. Behind them, there are brembo 6-piston calipers with 308 x 32 mm perforated compound brake discs and 4-piston calipers with 380 x 28 mm discs at the rear.
The overall weight is 1395 kg.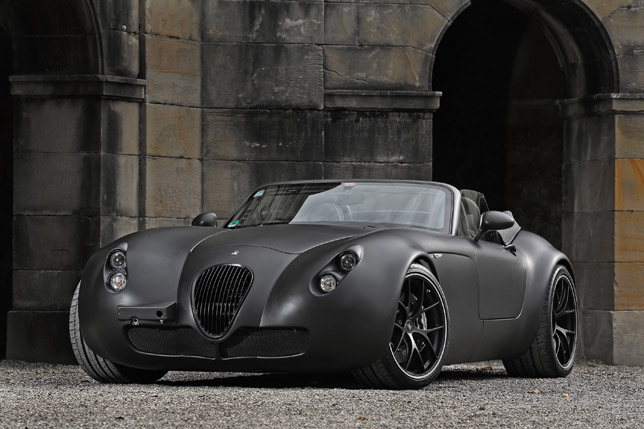 Source: SchwabenFolia