Winged Wonders Unleash Thunder at Festival of Speed - Goodwood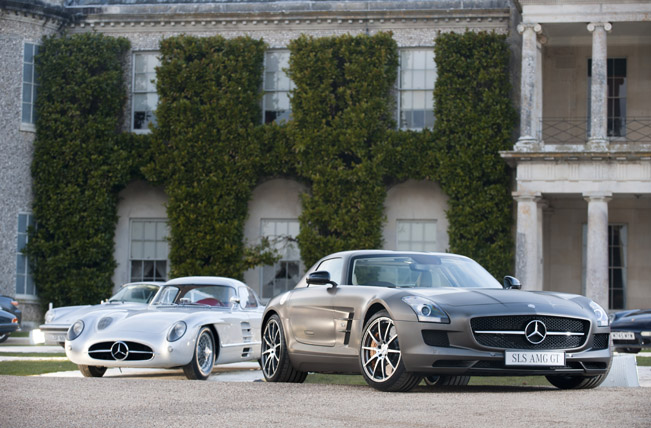 Mercedes-Benz will bring two sensational sports cars at the 2013 Goodwood Festival of Speed. First is the 1955 300 SLR Uhlenhaut Coupe and second the new 2013 SLS AMG GT.
Despite the huge difference in time between these two great cars, they have a lot in common. Both have mighty engines in front and RWD as well as gull-wing doors. The two sports cars make extensive use of aluminum and have hand-built eight-cylinder engines.
The 300 SLR is powered by a 3.0 liter straight-eight with 310HP (228 kW). It weighs just 1,117 kg (2,462 lbs), so this is the quickest closed-roof car of that time. Its top speed isover 286 km/h (178 mph).
Nicknamed after legendary engineer, former head of vehicle development and creator of the 300 SLR, Rudolf Uhlenhaut, the "Uhlenhaut" Coupé was built in 1955 and based on the highly successful racers, most famous for the Mille Miglia victory of Stirling Moss and Denis Jenkinson. Equipped with a set of less than effective silencers to allow it to be road legal, Uhlenhaut famously used the 300 SLR Coupé as his everyday car
On the other hand, the new 2013 SLS AMG GT has world's most powerful naturally aspirated V8 engine with whopping 591HP (435 kW) at 6,800RPM and 650Nm (479 lb-ft) at 4,750RPM. The power is sent to the rear wheels through an AMG SPEEDSHIFT DCT-7 transmission. 0-100 km/h in 3.7 seconds and a top speed of 319 km/h (198 mph).
The Goodwood Festival of Speed takes place between 11 and 14 July 2013.
Source: Mercedes-Benz