You Must See It, Because this is the First Ever 2016 Cadillac ATS-V Coupe [VIDEO]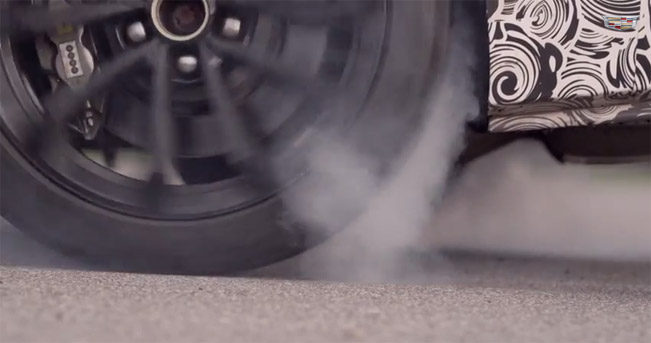 The first ever 2016 Cadillac ATS-V Coupe has just been previewed via an exclusive video, which was officially revealed by the company. The exclusive car will be unveiled at the Los Angeles Auto Show on 18th of November. As you can see, the footage does not show much except for the "burnout". However, the rumors say that the ATS-V Coupe will adopt an aggressive front fascia with a carbon fiber front splitter.
Of course, there will be the typical for Cady mesh grille, which however will be slimmer. Some also say that there will be larger and lower intake.
As you can see from the video, the shoes of the coupe are black multi-spoke lightweight alloy wheels backed up by an exceptional braking system. And are we hearing the sound of four-tailpipe sports exhaust system?
There is no official data about the engine, however we expect to see the twin-turbo 3.6-liter V6 engine, which generates around 425 hp (313 kW).
Cadillac unveiled the 2015 ATS Sedan in July. It featured a new front fascia with a revised grille, high-intensity discharge headlamps, LED vertical light signature elements and Adaptive Forward Lighting. All models also feature LED technology for the taillamps and rear-center stop lamp.
The engine range here starts from the 2.5 liter four-cylinder with 202 hp (151 kW) and 259 Nm (191 lb-ft) of torque and the 2.0 liter turbocharged petrol with 272 hp (203 kW) and 400 Nm (203 kW), to the 3.6 liter V6 – 321 hp (239 kW) and 373 Nm (275 lb-ft).
Video Source: YouTube
Source: Cadillac