1965 Porsche 911 Project 50 at the 2013 Goodwood Festival of Speed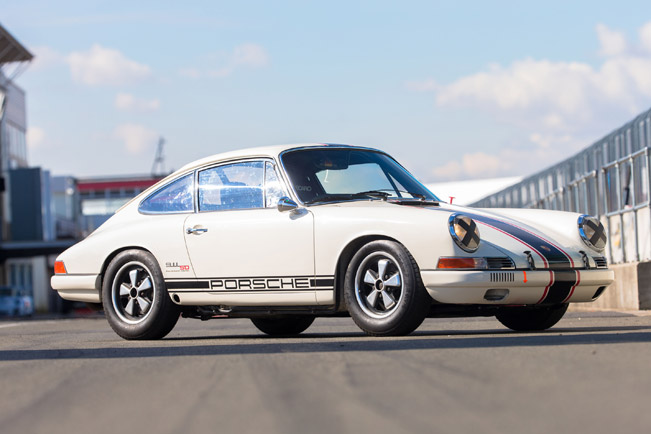 Porsche will introduced the a special 911 Project 50 to celebrate the series 50th anniversary at the 2013 Goodwood Festival of Speed.
An original 1965 Porsche 911 was originally purchased by an Italian customer, who paid around £3,400 today's money. The car is powered by a 2.0 liter flat-six with 130HP (97 kW). However, it is converted into a FIA-approved race car in the late 1990s.
The 1965 'short-wheelbase' 911 will be racing under the 'Project 50' team banner in selected 'Masters Series' events alongside appearances at larger festivals such as the Nürburgring OldTimer and Silverstone Classic. The car will be run out of the UK headquarters in Reading, Berkshire, and maintained by the in-house Porsche Cars GB Motorsport team who also provide the technical support for the Carrera Cup GB Championship and GT3 Cup Challenge GB.
With a simple silhouette and minimal exterior graphics, the early 911 has a very distinct design purity which is a lasting legacy of the designer, Ferdinand Alexander Porsche. This not only established the Stuttgart coupe as a style icon, but also set the template for future generations of the car. These early cars also set the motorsport reputation of the 911, not least with an outstanding debut success in the 1965 Monte Carlo Rally with a first in class and fifth place overall result.
Since it was first launched, the 911 has been regarded as a rewarding car to drive quickly due to its rear-engine. To drive fast, a 1965 911 undoubtedly demands a particular level of commitment behind the wheel; this dynamic flair remains discriminating to this day. Systematic chassis refinements over the years have had the effect of lessening the influence of the legendary rear-biased weight distribution of the 911 yet the unique feel, character and driver involvement is undimmed. And the high dynamic limits of the chassis continue to demand respect.
Source: Porsche