1998 Porsche 911 GT1
For the company's 50th anniversary in 1998, Porsche received the most gratifying of all jubilee presents in the form of victory in the Le Mans 24 Hours race, achieved by Laurent Aiello/Allan McNish/Stephane Ortelli.
Using a carbon-fibre chassis for the first time to provide weight and strength advantages, the 911 GT1/98 was an evolution of the GT1 concept that was started in 1996. The GT1 race car had a silhouette that was reminiscent of the road-going 911. However, in many other respects the 911 GT1/98 was very different to the road car which inspired it. For the 1996 and 1997 examples, the GT1 deployed the front end of the Type 993 911, but an entirely new front axle was developed for the 1998 edition. Double wishbones with pushrods and transverse coil springs are used for wheel control, damping and shock absorption. This suspension has considerable scope for adjustment, permitting optimum matching of the suspension responses to the characteristics of the race track.
The new front end meant that the 100-litre safety fuel tank had to be moved from the nose to the space between the rear cockpit bulkhead and the engine. From the engineer's point of view, this is the optimum location in a race car, as the weight distribution between the front and rear axles then varies only slightly according to the quantity of fuel in the tank.
For the aerodynamic concept of the GT1/98, project manager Norbert Singer used a method that had previously never been adopted; a quarter-scale model was first optimized in a small wind tunnel, and the measured data fed into the computers at the Porsche research and development centre in Weissach. A full-scale model was then created by milling machines, and the aerodynamic efficiency was checked in a second wind tunnel at Weissach.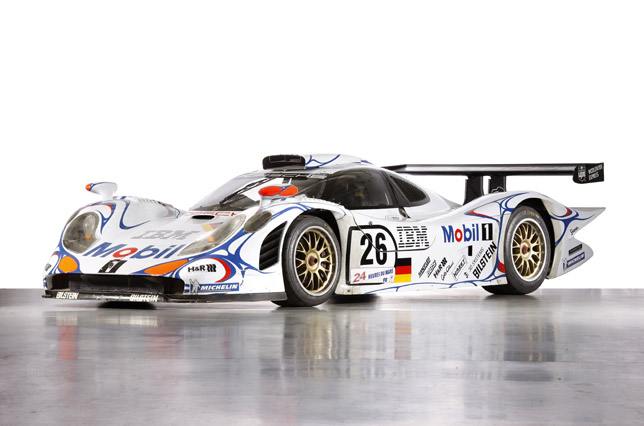 The engine and gearbox of the GT1/98 used the same concept as the previous models, but in some detail areas, driveline components were modified to optimize fuel consumption, weight and reliability. The engine block and cylinder heads of the 3.2-litre flat-six are made of aluminium, and the unit is water-cooled. Two KKK turbochargers boost the power output to around 550bhp.
Technical Specification
Engine: Six-cylinder, horizontally-opposed pistons, water-cooled, twin turbochargers
Output: 550bhp at 5,000rpm
Displacement: 3,200cc
Weight: 940kg
Performance: Top speed 350km/h (217mph)