2010 ROUSH Stage 3 Mustang
The specialists at ROUSH Performance Products are ready with their most powerfull - 2010 ROUSH® Stage 3™ Mustang performance kit. The 4.6 litre engine is boosted to 540hp and 680N/m of torque.
The tuning kit includes:
R2300 ROUSH charger 4.6L Powertrain System - Produces 540 hp / 510 lb-ft
ROUSH Exhaust System
ROUSH Front Fascia with Driving Lamps
ROUSH Front Chin Spoiler
ROUSH Billet Upper Grille
ROUSH Side Rocker Splitters
ROUSH Rear Valance
ROUSH Rear Decklid Spoiler
ROUSH Fender Badges and Rear Decklid Emblem
ROUSH Stage 3 Rear Dome Badge
ROUSH Stage 3 Striping
ROUSH Stage 3 Interior Serial Badge
ROUSH Center Console Badge/Button
ROUSH Front Windshield Banner
ROUSH White Face Gauges
ROUSH Vent Pod with Boost Gauge
ROUSH Sport Leather Seating
ROUSH Four-Piece Performance Pedals
ROUSH Embroidered Floor Mats
ROUSH Short Throw Shifter with Billet Shifter Arm
ROUSH 18-Inch Cast Chrome Wheel With High Performance Tires
ROUSH Illuminated Door Sill Plates
ROUSH Big Brake Upgrade
ROUSH Suspension System
POWERED By ROUSH Engine Bay Plaque
ROUSH Stage 3 Serialized Engine Bay Plaque
ROUSH Trunk Mounted Tool Kit
And there is more in the option list:
ROUSH Rear Quarter Window Louvers - $370
ROUSH Convertible Light Bar - $910
ROUSH Lower Billet Brille - $250
ROUSH 20-Inch Cast Chrome Wheel & Tire Upgrade - $1,115
Locking Lug Nuts - $60
ESCORT Passport 9500ci Radar/Laser Defense System - $2,200
The price of the performance kit is $28,200. It comes with a 3-year/36,000-mile warranty and will be available with a manual transmission only.
The car is extremely beautiful and in the same time aggressive. Typical American muscle.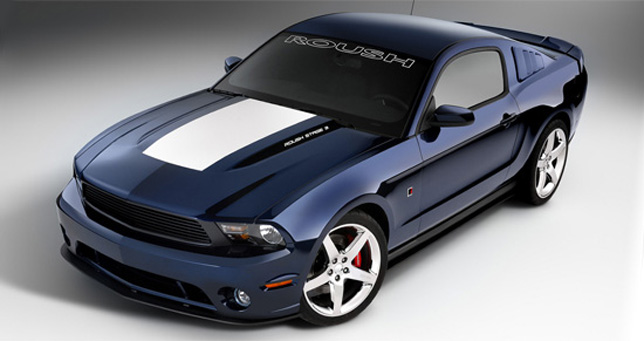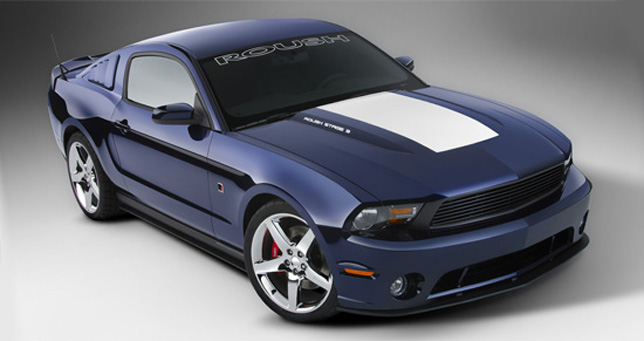 Full Press Release:
2010 ROUSH Stage 3 Mustang
The 2010 ROUSH® Stage 3™ Mustang once again takes its rightful place atop the hierarchy of Jack Roush's lineup. This vehicle packs a punch with 540hp and 510 lb-ft and is fully-loaded with the ROUSH® body components; resonator exhaust; four-piston front brakes with 14-inch rotors and painted rear calipers with slotted rotors; and the new upper billet grille which removes the fog lamps and streamlines the appearance of the new Mustang while improving cooling performance. Interior enhancements include ROUSH® leather seats with an embroidered Jack Roush signature; four-piece performance pedals; ROUSH® illuminated sill plates; short throw shifter with black or white ball; and a new interior Stage 3™ badge with the car's serial number engraved.
The 2010 ROUSH® Stage 3™ Mustang rides on 18-inch chrome wheels with high-performance Cooper RS3 tires; 20-inch chrome wheels with Cooper RS3 tires are one of the few options available on this model. The suspension package includes ROUSH® front struts, rear shocks, front and rear springs, front and rear stabilizer bars and jounce bumpers.
"The ROUSH® Stage 3™ Mustang has traditionally been among the halo vehicles of our lineup and I'm really proud that it sits atop the pecking order once again," said Jack Roush. "This new iteration of the Stage 3™ represents our highest horsepower and most sophisticated ROUSH® Mustang yet, and is sure to resonate among our fans."
The 2010 ROUSH® Stage 3™ Mustang will have a limited production run of only 103 vehicles.
This vehicle uses the same engine that debuted in the 2009 ROUSH® P-51B™ Mustang. In order to get this type of power from the Ford 4.6L, 3-valve engine, ROUSH technicians replace many of the internal components with stronger parts including forged aluminum pistons (with an increased dish to lower the compression ratio from 9.8 to 8.6), forged steel H-Beam connecting rods and a forged steel crankshaft. The fuel rails are changed, as are the fuel injectors and an upgraded fuel pump. ROUSH® also upgrades the clutch and includes a custom-calibration for the ECM to manage the performance of the next-generation R2300 ROUSHcharger®.
As is standard with all new ROUSH® Mustangs, this car will come with the anti-wheel hop kit installed during the assembly process. This part (No. 401788) is an outstanding addition to any 2005-2010 Ford Mustang GT.
The 2010 ROUSH® Stage 3™ Mustang is covered by a 3-year/36,000-mile warranty and will be available with a manual transmission only.