2011 DTM season: Bruno Spengler is the first winner
Mercedes-Benz began the new 2011 DTM season with a victory. Bruno Spengler with Mercedes-Bank AMG C-Class was the fastest on the race track at Hockenheim and he won the first round of the championship with a margin of 3.7 seconds over Mattias Ekstrom (Audi).
After 191 races in the new era of the DTM series, Mercedes-Benz lead their rivals Audi by 106 races to 55. Five of the drivers with AMG Mercedes C-Class cars finished among the points-scoring positions. Gary Paffett climbed from 18th on the grid to 6th at the final. Jamie Green and Maro Engel also scored points, finishing 7th and 8th, respectively. David Coulthard achieved a top ten result and Susie Stoddart  crossed the line in 12th position. Christian Vietoris, who is a rookie in DTM championship finished 13th and Renger van der Zande was forced to retire on Lap 30.
Bruno Spengler also set the fastest race lap - 1:35.230 minutes, his ninth in DTM.
The race track had a total of 58 000 visitors during the weekend.
"What a start to the season! I've been waiting since 2006 for my second win in Hockenheim, so it was high time. I'm looking forward to a long night of celebration with my team. The crew were excellent today, keeping me well updated with what was happening on the track and helping me to defend my lead. It was a great job all round.", commented Bruno Spengler (Mercedes-Benz Bank AMG C-Class) – Winner.
Check the summary, below!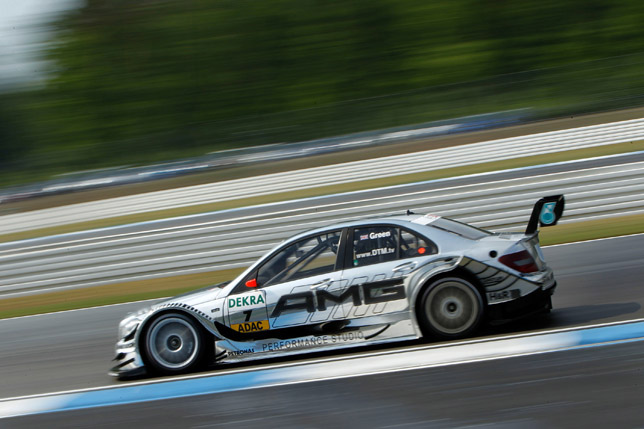 Race summary:
The start: Bruno Spengler starts from pole position for the eighth time in his DTM career. On the first corner, he defends the lead against Audi driver Mattias Ekström. Ralf Schumacher holds on to third. Maro Engel improves his position on the first lap, moving up from seventh to fifth, while Gary Paffett charges forward from 18th (his grid position) to 13th.
Lap 3: Susie Stoddart receives a drive-through penalty for jumping the start.
Lap 5: Spengler heads the field with a two-second lead on Ekström. Schumacher remains in third place, Engel up to fifth. Paffett has meanwhile worked his way up to tenth.
Lap 10: No change at the front, with Spengler leading from Ekström and Schumacher. Engel advances to sixth. The pit-stop window opens and Paffett, now in tenth place, dives in first for a change of tyres and to refuel. Renger van der Zande also pits.
Lap 11: Jamie Green and Christian Vietoris now make their first pit stop.
Lap 12: David Coulthard and Susie Stoddart also decide it's time for a new set of tyres. Stoddart drives off with the fuel can still attached; this gets jammed on her rear wing before later falling off. After his pit stop, Paffett sets the fastest lap so far.
Lap 13: Ralf Schumacher makes his first pit stop.
Lap 14: Spengler pits as race leader and emerges with his lead intact. Schumacher remains in P3 after the first round of pit stops. Engel also pits.
Lap 15: Spengler is leading the race by 3.9 seconds. Schumacher in third, Engel in sixth. After just 15 laps, Paffett has climbed from 18th to eighth.
Lap 20: At the front, Spengler maintains a 3.4-second lead. Schumacher remains on course for a podium and is successfully defending third place against Martin Tomczyk (Audi). Engel is in sixth position, while Paffett is now only 0.7 seconds behind seventh-placed Miguel Molina.
Lap 21: Paffett is the first driver to come in for the obligatory second pit stop, which doesn't go quite as smoothly as it should. Coulthard also pits for a second time
Lap 22: Green and Christian Vietoris make their second pit stops from tenth and 14th respectively.
Lap 23: Engel enters the pit lane from P6 for fresh Hankook tyres and fuel. Stoddart also makes her second scheduled stop.
Lap 24: Schumacher pits from third and is shadowed by fourth-placed Tomczyk. The Audi driver drags a fuel can with him on the way out and it falls on the track. Paffett demonstrates superb reactions to avoid the obstacle. The race stewards deploy the safety car.
Lap 25 : Spengler and van der Zande take advantage of the safety car period to come in for their second compulsory pit stops. Spengler retains the lead.
Lap 28: The safety car heads for the pit lane. Spengler defends his lead; Schumacher is in third place ahead of Timo Scheider (Audi). Paffett overtakes Molina; Green seizes the opportunity to sail past the Spaniard as well.
Lap 29: Paffett overtakes Engel. Sixth to eighth places are occupied by AMG C-Class drivers Paffett, Engel and Green.
Lap 30: Following a collision, Van der Zande returns to the pits minus bonnet; race over for the stern AMG C-Class.
Lap 32: Green passes Engel to take seventh position.
Final lap: After 38 laps and a total distance of 173.81 kilometres, Bruno Spengler wins the opening race of the 2011 DTM season at Hockenheim. Ralf Schumacher claims the first podium of his DTM career in his 33rd race. Gary Paffett, Jamie Green, Maro Engel and David Coulthard finish in the top 10.
Source: Mercedes-Benz