2011 Hennessey HPE700 Camaro Convertible - 765HP and 1033Nm
Hennessey Performance announced their 2011 HPE700 Camaro Convertible.
The car features a CarbonAero body kit like the previous HPE700 coupe, which includes a front splitter, a rear diffuser and revised side skirts, ), a painted hockey stick side strip, and 20" alloy wheels fitted with Pirelli P-Zero tires
Under the hood of 2011 HPE700 Camaro Convertible beats enormous LS9 engine with upgraded cold air induction system, pulleys and high-flow fuel injectors. After these upgrades, the 6.2 liter V8 develops the staggering 765PS (563kW) and 1033Nm (763 lb-ft) of torque, which means an increase of 119PS (87kW) and 215 Nm (159 lb-ft).
On the track, HPE700 Camaro Convertible accelerates from 0 to 60 mph in 3.3 seconds and the 1/4 mile is covered in 10.9 seconds with speed of 130 mph.
Additionally, the tuning company added an adjustable coil-over suspension, upgraded sway bars and a Brembo braking system with 15" rotors.
Hennessey HPE700 production will be limited to 24 units.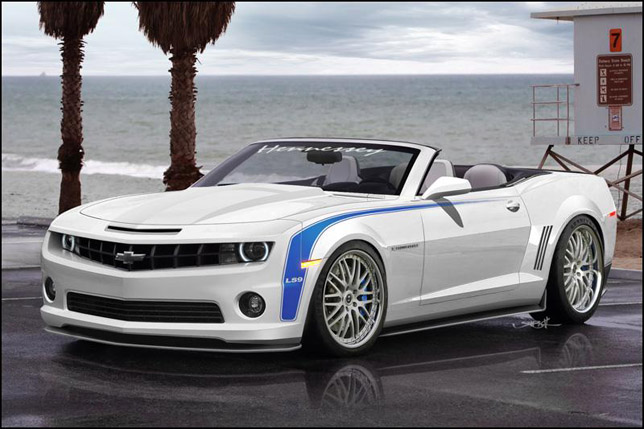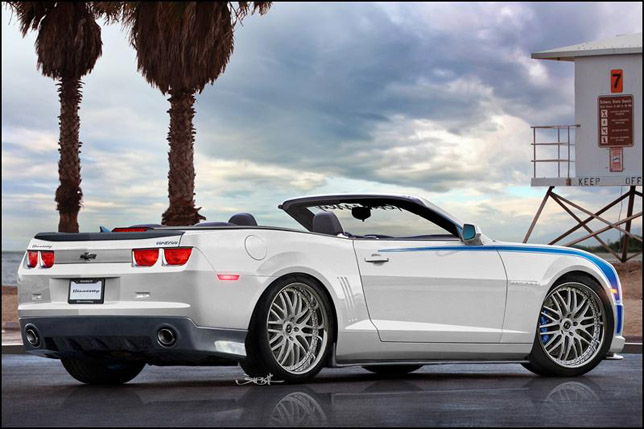 The 755HP 2011 HPE700 LS9 Camaro
Limited Edition: Only 24 to be Built for 2011 Model Year Now Available in Hardtop and Convertible
Power: 755 bhp @ 6,400 rpm 763 lb-ft Torque @ 3,200 rpm
Performance (Hardtop): • 0 - 60 mph: 3.3 sec* • 1/4 mile: 10.9 @ 130 mph* • Skidpad: 1.01 g • 60 - 0 mph braking: 104 ft. * with optional Nitto Drag Radial tires
Camaro HPE700 Package Includes: • Base 2011 Camaro SS with 6-speed Manual Transmission (convertible or hardtop) • LS9 6.2L Supercharged Engine with Intercooler • HPE Cold Air Induction • Supercharger Pulley Upgrade • High-Flow Fuel Injectors • Fuel System Upgrade • Intercooler System Upgrade • CarbonAeroTM Bodywork: Front Splitter, Rear Bumper Diffuser & Side Rocker Panels • Long Tube Stainless Steel Headers • HPE Extreme Duty Clutch & Flywheel Upgrade • HPE Race Shift Knob and Short Throw Shifter Upgrade • HPE Light Weight Alloy Wheels • 20 x 11 inch (rear); 20 x 9.5 inch (front) • Pirelli P-Zero Tires, 275/35-YR20 (front); 305/35-YR20 (rear) • Brembo Front Brake Upgrade: 6-Piston Calipers with Light Weight 15 inch Cross-Drilled Rotors • Brembo Rear Brake Upgrade: 4-Piston Calipers with 15 inch Light Weight Rotors • KW / HPE Variant 3 Adjustable Coil-Over Suspension Upgrade • KW / HPE Front & Rear Sway Bar Upgrades • Painted Hockey Stick Side Stripe with LS9 logo • Hennessey Embroidered Head Rests & Floor Mats • Limited Edition HPE700 Dash Plaque & Hood Plaque • HPE700 & Hennessey Logos Painted on Rear Deck Lid • Hennessey Letter of Authenticity • HPE700 buyers will also receive a 1-day performance driving course at Lonestar
Motorsports Park - a 1/4 mile dragstrip facility located adjacent to Hennessey's 30 000 square foot production facility and showroom.