2011 HPE650 Camaro Convertible
Hennessey Performance has exclusively announced that at this weekend's Barrett-Jackson auto auction in Palm Beach, Florida, the first 2011 HPE650 Camaro Convertible is about to show its face to enthusiasts and lovers.
Fully capable of delivering the exceptional figure of 650 horsepower at 6,300 revolutions, the HPE650 Camaro Convertible benefits a long list of additional components, including: a TVS2300 supercharger unit available in either Black or Chrome finishes, an air induction system, high-flow cylinder heads, stainless steel long tube headers, high-flow catalytic converters, as well as a high-flow fuel injector upgrade and ECU remap.
Moreover, Hennessey Performance is also offering some styling improvements for the recently introduced open-air muscle car: special stripe pack, sleek lightweight alloys, Hennessey aero kit and custom, premium leather upholstery.
Unfortunately, the price of the complete Hennessey HPE650 for Camaro Convertible is still not announced.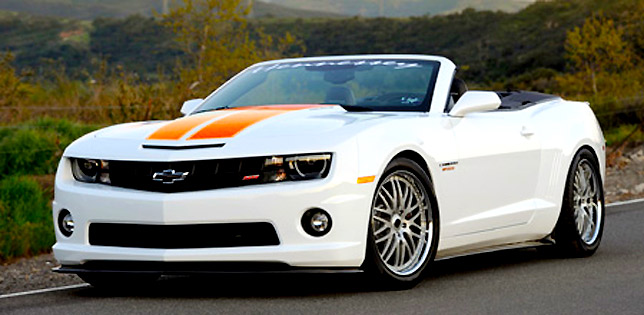 Hennessey HPE650 Supercharged Camaro specs and mod list:
Power:
The HPE650 Supercharged Upgrade Includes:
TVS2300 Supercharger System (Black or Chrome)
HPE Air Induction System
High Flow Cylinder Heads
HPE650 Camshaft Upgrade
Stainless Steel Long Tube Headers
High Flow Catalytic Converters
Stainless Steel Mid-Pipes
High Flow Fuel Injector Upgrade
160 Degree Thermostat
All Necessary Gaskets & Fluids
Professional Installation
HPE Engine Management Calibration
HPE650 Exterior Badging
Serial-Numbered Dash & Engine Plaques
Hennessey Premium Floormats
Hennessey Embroidered Headrests
HPE Modified Engine Cover
1 Year / 12,000 Mile Limited Warranty
Additional Appearance and Performance Options also Available:
Hennessey Stripe Package
HPE Premium Lightweight Wheels
Torque Converter or Clutch Upgrade
Full Coilover Suspension Kit
Hennessey CarbonAero&trade Body Kit
Custom Leather Interior
Source: Hennessey Performance