2012 Audi A5 Sportback 2.0 TDIe - Price £27 320
Audi has announced two new TDIe engines, where the "e" means efficiency. The manufacturer will hit the market with A5 Coupe and A5 Sportback powered by 2.0 liter TDIe engine with two outputs – 136PS (100 kW) and 163PS (120 kW). The price is very competitive, too - £27 320 OTR for 2012 Audi A5 Sportback 2.0 TDIe with 136PS.
The performance is not too bad and the car is perfect for everyday drive – 0 to 100 km/h in 9.5 seconds and a top speed of 212 km/h (132 mph). The impressive is the fuel consumption – 64.2 mpg according to the official combined cycle test and emission of 117 g/km CO2.
The 163PS is slightly faster to 100 km/h - 8.7 seconds with better top speed 220 km/h (137 mph) and a little more thirsty – 62.8 mpg with 118 g/km CO2.
Last, in the Coupe variant, the 163PS engine accelerates to 100 km/h in 8.4 seconds with a top speed of 225 km/h (140 mph) with fuel economy of 64.2 mpg with 115 g/km CO2.
All cars have 6-speed manual gearbox.
In both Sportback and Coupe models all the four-cylinder TDI engines can be combined with a new, highly cost effective SE Technik specification. For just £1 000 on top of the SE model for Sportback and £500 for Coupe, it adds DVD SAT NAV, Audi Music Interface (AMI) iPod connection, the Audi Parking Plus system with front and rear sensors and cruise control.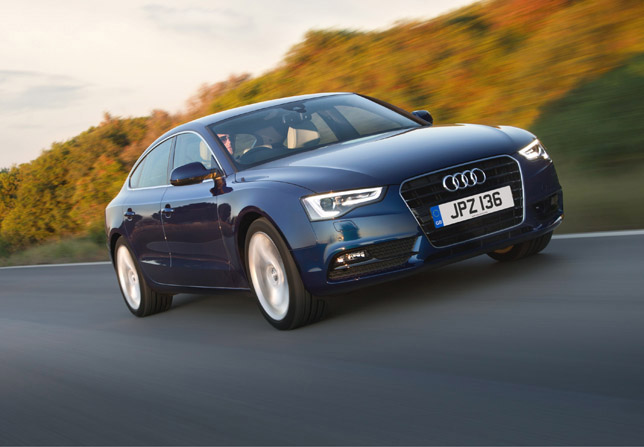 A5 Sportback 2.0 TDIe 136PS
Standard                           £27,320 OTR SE                                       £29,090 OTR SE Technik                       £30,090 OTR S line                                  £31,390 OTR
A5 Sportback 2.0 TDIe 163PS
Standard                           £27,825 OTR SE                                       £29,595 OTR SE Technik                       £30,595 OTR S line                                  £31,895 OTR
A5 Coupe 2.0 TDIe 163PS
Standard                           £28,775 OTR SE                                       £30,545 OTR SE Technik                       £31,045 OTR
Source: Audi