2012 Audi TT Coupe 1.8 TFSI Sport Price - £24 070
Audi now offers the new Audi TT Coupe 1.8 TFSI model generously equipped to either Sport or S line specification, and available with either 6-speed manual or 7-speed S tronic transmissions.
The 1.8 litre turbocharged petrol engine delivers 160PS (118 kW) at 4500RPM and 250Nm (185 lb-ft) of torque at just 1500RPM. 0 to 100 km/h in 7.2 seconds with the manual gearbox and 7.1 seconds with the S-tronic transmission. The top speed is 225 km/h (140 mph). The fuel consumption is superb – 44.1 mpg on combined cycle.
The extensive equipment list already offered by Sport models, and further embellished in S line versions, is carried over unchanged to the new 1.8 TFSI. For Sport models it includes 17" alloy wheels, electronic climate control, leather and Alcantara combination upholstery and a Concert audio system with single CD player and MP3/iPod connectivity.
S line versions upgrade with features including 18" alloy wheels, lowered S line sports suspension, a short-shift gearbox for manual versions, S line exterior and interior detailing and xenon headlights with LED daytime running lamps.
The top-of-range Black Edition specification takes S line as its basis and is available exclusively for 2.0-litre TFSI and TDI versions. It adds 19" alloy wheels, a black styling treatment for the single frame grille surround and number plate holder, dark tinted rear privacy glass for Coupe models, acoustic rear parking sensors for Roadsters, a Bluetooth phone interface and an upgraded Symphony audio system linked to a BOSE premium sound system.
Check out the full price list, below!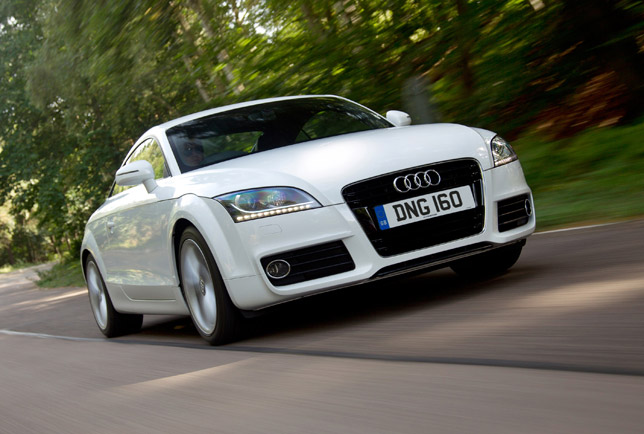 2012 Audi TT Price:
| | |
| --- | --- |
| TT Coupe | OTR |
| 1.8 TFSI Sport manual | £24,070 |
| 1.8 TFSI S line manual | £26,060 |
| 1.8 TFSI Sport S tronic | £25,550 |
| 1.8 TFSI S line S tronic | £27,540 |
| 2.0 TFSI Sport manual | £27,140 |
| 2.0 TFSI Sport S tronic | £28,620 |
| 2.0 TFSI S line manual | £29,130 |
| 2.0 TFSI S line S tronic | £30,610 |
| 2.0 TFSI Black Edition manual | £30,380 |
| 2.0 TFSI Black Edition S tronic | £31,860 |
| 2.0 TFSI quattro Sport S tronic | £30,150 |
| 2.0 TFSI quattro S line S tronic | £32,140 |
| 2.0 TFSI quattro Black Edition S tronic | £33,390 |
| 2.0 TDI quattro Sport manual | £28,300 |
| 2.0 TDI quattro S line manual | £30,290 |
| 2.0 TDI quattro Black Edition manual | £31,540 |
| 2.0 TDI quattro Sport S tronic | £29,795 |
| 2.0 TDI quattro S line S tronic | £31,785 |
| 2.0 TDI quattro Black Edition S tronic | £33,035 |
| | |
| TTS Coupe  2.0 TFSI manual | £35,605 |
| TTS Coupe  2.0 TFSI S tronic | £37,085 |
| TTS Coupe  Black Edition 2.0 TFSI manual | £36,855 |
| TTS Coupe  Black Edition 2.0 TFSI S tronic | £38,335 |
| | |
| TT RS Coupe 2.5 TFSI manual | £45,840 |
| TT RS Coupe  2.5 TFSI S tronic | £47,185 |
Source: Audi