Dartz Jo-Mojo
Great news for "go-greeners" today! They come from DARTZ which are very pleased to present the Jo-MOJO - an electric modification of their bulletproof Roadster. Moreover it is also redesigned in their second collaboration with Eduard Gray of Gray Design.
As usual this vehicle is again following the armored tradition set by DARTZ. Although it has an open top, it is based on a pseudo-KAPSULA technology platform akin to its bigger brothers. In addition it has been equipped with patented bullet wheels, custom seating and made with chameleon paint, which will undeniably ensure that it will be as individual as its owner.
The designers of The Jo-Mojo revealed that the super-car has been designed to run through the streets of the Cote d'Azur. Additionally it comes armed with a styling that will light up any party.  The advantages of this brilliant vehicle are numerous, but worth of mention are the compact format, low center of gravity and wide front wheel placement. Thank to them the car has fantastic handling characteristics to ensure a smooth ride around curved roads of the Blue Coast.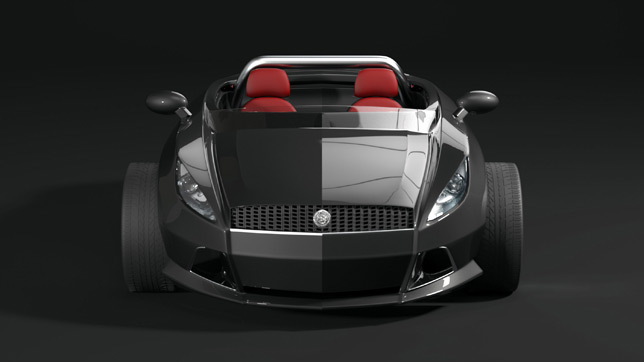 Dartz Jo-Mojo (2012)
However the greater advantage of this car lies in its solar batteries. The innovation around the Jo-Mojo is the retractable cover that incorporates a flexible solar cells created by former Soviet space manufacturers, Sidrabe.  Moreover you will be amazed when you hear that the cover locks the car and charges it up while it stands under the sun! In addition there is an option of adding extra batteries when you plan to make a longer travel. And don't worry about the speed because this car has all that it takes for an exciting drive. First, it accelerates from 0 to 100 km/h just in 9.5 seconds and the top speed is the almost unbelievable for an electric car 125 mph (201 km/h). This is due to the powerful electric engine which delivers the whole 68 kW (80HP) and 120NM (90 lb-ft).
Source: Gray Design