2012 EDAG Light Car - Sharing concept car
The engineering service provider EDAG is going to present a world debut of the outstanding Concept vehcile, called EDAG Light Car – Sharing at this years Geneva Auto Show. This is a concept car made especially to fit instantly to the booming leasing business. More importantly the car is electrically driven and has been constructed strictly for use as a leasing car. According to the manufacturers it answers all the needs of the customer: it is simple and easy to use as a local publuc transport. To be more precise, these requirenents, led to the non-featuring of storage surfaces nor fancy door trims in the new EDAG Light Car – Sharing Concept Car. And even more, to make it simpler, aside from the accelerator, brake and steering wheel, the only other control the customer will find is a lever to work the indicators. There is just one display element which gives basic information abut the speed, state of charge, range and navigation.
Moreover, the car created by the EDAG is designed with two side doors and twin rear doors. However it keeps room for 6 passengers. Thank to the car's height of 1.90 m the passangers can get in and out easily. Additionally, there are also folding seats included. They provide maximum transport capacity. The materials used in the interior are are easy to clean, and as they are modular-based,  so therefore also easy to exchange.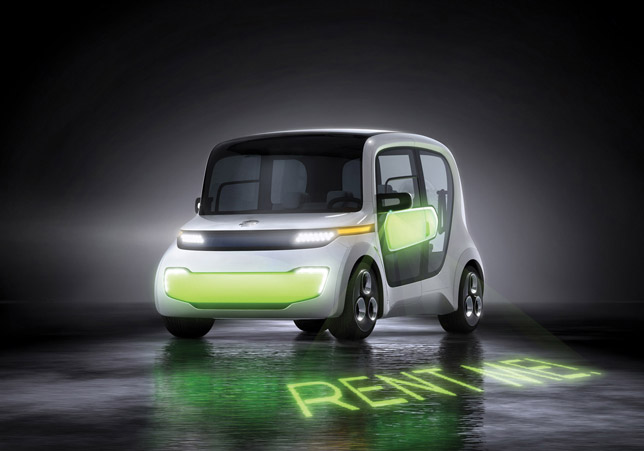 2012 EDAG Light Car - Sharing concept
There is also a unique technologies included in this leasing concept vehicle. For example, there shouldn't be any worry about bumping the car when parking, bacause the sensitive spots are fitted with "Technogel" pads, and these can withstand minor collisions. Of course, light plays a prominent role as a communication instrument in this car: the LEDs integrated in the pads and "Plexiglass truLED" give a continual, visible indication of the status of the car. Furthermore, while parking the car or opening the doors, a laser integrated in the mirror starts projecting a safety zone onto the asphalt, ensuring that passengers can get in and out in safety. Another interesting and innovative feature is that the rear window can be marketed as advertising space by the fleet owner, but only when the car is not being driven. With this exceptional concept car - EDAG Light Car – Sharing, the EDAG Group shows extremely high competence and eagernessin finding new ideas and developing innovative vehicle concepts.
Source: EDAG