2012 Honda Accord
This March, at the Geneva Motor Show, Honda the renowned Japanese automaker is about to reveal refined versions of its Honda Accord Saloon and Tourer models. Distinguished by improvements in the fuel economy and exterior styling, the new Honda Accord range continues to evolve and offer its buyers impressive quality and high specification, blended with class-leading reliability and lower running costs.
Under the bonnet, the 2012 Accord sports an improved version of the 2.2-liters i-DTEC diesel unit, which delivers the same output as the current model - 150 horsepower and 350 Nm of peak torque at 2000 revs, but boasts 9 g/km drop in CO2 emissions on the saloon achieving 140 g/km CO2 figure (6-speed manual) and an 11 g/km reduction for the automatic variant.
In the terms of styling refinement, the freshened Honda showcases small yet noticeable changes to the headlights and bumpers. In the high-end grades, the lights are now bi-xenon and feature Active Cornering Lights, improving on the night time visibility. Furthermore, a sportier appearance has been achieved through a upgraded grille, more aggressive cooling duct and fog lights, restyled tail lights and 17-inch lightweight alloys.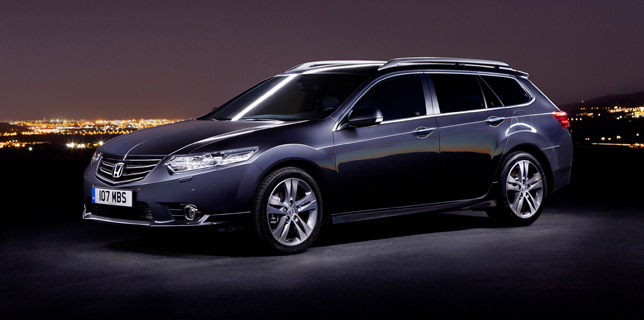 Continuing inside the cabin, the soon-to-debut Honda Accord has new dark silver interior panels and bright silver door handles and handbrake, while ES grades now benefit from new seat materials and door linings.
On technology level, an Active Cornering Lights system and High Beam Support have been added to the refined ride, which is scheduled for market launch in the UK from July.