2012 Kia Rio three-door
While the all-new Kia Rio five-door hatchback is generating positive media coverage around the world and arriving in dealer showrooms across Europe this month, Kia is celebrating the world premiere of its new Rio three-door model at the Frankfurt Motor Show.
Designed primarily for the European market, the new Rio three-door will expand the appeal of Kia's latest B-segment model to attract a new group of consumers to the brand for the first time – boosting conquest sales after its introduction during the first quarter of 2012.  Ultimately, Kia expects the Rio three-door to account for approximately 20 to 25 per cent of total Rio sales.
Rio three-door has the same key dimensions as the five-door model (length 4,045 mm, width 1,720 mm, height 1,455 mm and wheelbase 2,570 mm) and retains the same roofline that is one of the lowest in Kia's European product range, emphasising its purposeful, sporty stance.
In most European markets, Rio three-door will be available with the same range of powertrains, equipment and options as the five-door.  The new model will offer customers a choice of four highly efficient three- and four-cylinder engines – with a 75 to 109 ps power range.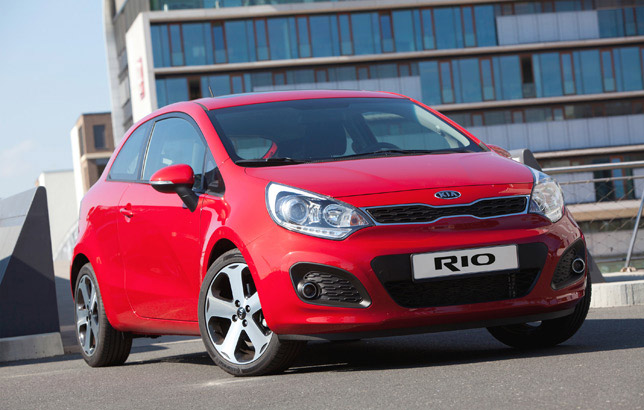 The fastest Rio three-door will accelerate to 62 mph in 11.5 seconds and be able to reach a top speed of 114 mph.  Fuel consumption will be as low as 88.2 mpg for the newly-introduced EcoDynamics diesel model, which will also deliver an industry-leading CO2 rating of just 85 g/km – the lowest emissions of any non electric vehicle, including hybrid vehicles.
With two bodystyles for new Rio, plus the already-popular five-door Soul and Venga B-segment models, Kia is confident of capturing an even larger share of the increasingly popular compact car market in Europe.  The three-door Rio will go on sale from early 2012.
Source: Kia