2012 Mercedes-Benz M-Class
The new 2012 Mercedes-Benz M-Class is set to have its official debut at the 2011 Frankfurt Motor Show. However, the premium manufacturer has released full details and specification about the new SAV.
By "new" we don't mean entirely redesigned model, but a slight facelift, which practically is the old M-Class, but with bigger taillights and interesting headlights. The highlights worth mentioning include a new front grille, new wheel designs from 17" to 21" as the biggest come with AMG badge. The improvements are present, still, we think that the rear lights are directly taken from BMW E61 (the previous 5-Series touring). It is tough to create something new and different these days, but this is Mercedes! If they don't have the designers and the engineers to create a real new SAV, nobody can't.
The interior is something different. The cabin is way better than the previous model and now feature higher quality materials and a lot of wood. Yes! The dashboard came directly from the S-Class, so we love it. The center console is wider and has some aluminum elements. The updated COMAND system is also present and as an option, you can order panoramic sunroof. Nice!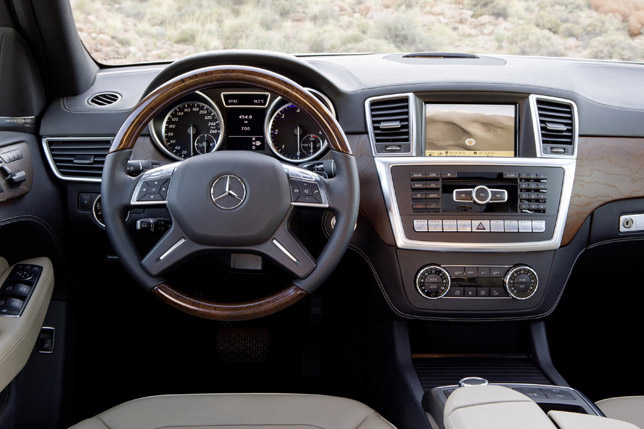 As you may suggest, the engines are brilliant. The entry level is ML 250 BlueTec with 2.1 liter four-cylinder diesel delivering hefty 204PS (150 kW) and 500Nm (369 lb-ft). The more powerful diesel – ML 350 BlueTec comes with a 3.0 liter V6 with 258PS (190 kW) and 619Nm (457 lb-ft). The performance is brutal – 0 to 100 km/h for 7.5 seconds and top speed of 224 km/h. Excellent for SAV.
The petrol engine is in ML 350 BueEfficiency with a 3.5 liter V6 with 306PS (225 kW) and 370Nm (273 lb-ft). The top speed is 235 km/h and 0 to 100 km/h takes 7.6 seconds.
All engines come with a 7G-Tronic automatic gearbox delivering the power to an all-wheel drive system.
The new M-Class has a selective damping suspension, while the Airmatic self-leveling air suspension and an Active Curve System with dynamic roll stabilization is available as an option. The SAV equipped with this will be a pleasure to drive.
The safety is at extemely high level - Night View Assist Plus including pedestrian recognition, Speed Limit Assist, Lane Keeping Assist, Blind Spot Assist, Active Park Assist and Distronic Plus and some other intersting systems.
The price is not announced, yet!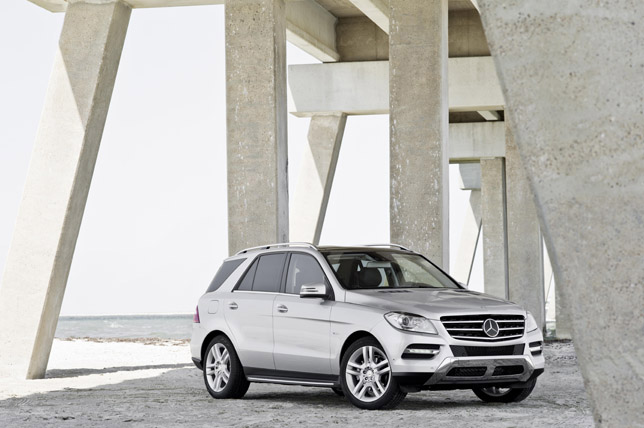 Check the specifications below.
2012 Mercedes-Benz M-Class:
| | | | | |
| --- | --- | --- | --- | --- |
| | ML 250 BlueTEC 4MATIC | ML 300 CDI BlueEFFICIENCY 4MATIC (Predecessor) | ML 350 BlueTEC 4MATIC | ML 350 CDI 4MATIC (Predecessor) |
| Number of cylinders | 4 | 6 | 6 | 6 |
| Displacement               cc | 2143 | 2987 | 2987 | 2987 |
| Rated ouput                 hp | 204 | 204 | 258 | 231 |
| Max torque                Nm | 500 | 500 | 620 | 540 |
| NEDC combined mpg CO2 / km | 43.4 - 47.0 158 | 31.4 - 33.6 224 | 38.1 - 41.5 179 | 30.0 - 31.8 235-246 |
| Acceleration 0 - 62 mph                     s | 9.0 | 8.3 | 7.4 | 7.6 |
| Top speed                 mph | 130 | 130 | 139 | 136 |
| Emissions standard | EU6 | EU5 | EU6 | EU5 |
| | | |
| --- | --- | --- |
| | ML 350 4MATIC BlueEFFICIENCY | ML 350 4MATIC (predecessor) |
| Number of cylinders | 6 | 6 |
| Displacement                  cc | 3498 | 3498 |
| Rated output                   hp | 306 | 272 |
| Max torque                   Nm | 370 | 350 |
| NEDC combined mpg CO2 / km | 32.1 - 33.2 199 | 23.5 - 24.7 266 |
| Acceleration 0-62 mph                         s | 7.6 | 8.4 |
| Top speed                     mph | 146 | 139 |
| Emissions standard | EU5 | EU5 |
Air flow optimisation:
Sealing around the radiator section with adjustable fan shutter
Sealed joints between the bonnet and the headlamps
Front wheel spoilers
Air outlets in the front wheel well liners
Redesigned exterior mirror housings
Optimised roof spoiler
Side spoilers on the rear window (ML 250 BlueTEC 4MATIC)
Underfloor and engine compartment panelling
Aerodynamically optimised light-alloy wheels
Comfort and driving dynamics:
To improve traction, the slip thresholds and shift points of the 7G-TRONIC PLUS system have been raised
A flatter accelerator pedal curve improves the sensitivity with which the driver can accelerate
Off-road ABS ensures optimum braking on a loose surface
ON&OFFROAD package:
Automatic - covers most everyday driving operations
Offroad 1 - light terrain, dirt roads and tracks
Offroad 2 - challenging off-road terrain with hilly stretches
Winter - for driving in wintry conditions on slippery roads, on snow, ice or with snow chains
Sport - more adventurous, dynamic driving on winding roads
Trailer - optimises moving off, manoeuvring and braking with a trailer
Comfort:
Improved rigidity of the front end structure thanks to struts between the lines of the upper and lower longitudinal members
Increased comfort, yet also reduction in weight, thanks to hybrid construction of front module
Particularly robust cockpit cross member made in lightweight magnesium alloy
Intelligent use of acoustic insulation In the production plants, insulation is fitted to the bodyshell where it is needed by computer-controlled robots. In the firewall area, the mass distribution of the insulation material used may vary in places in order to counteract potential noise penetration.
Aluminium transmission cross member with integrated vibration damper in the diesel models
Vibrationally optimised 7G-TRONIC PLUS with twin-turbine damper and, in the diesel models, a centrifugal pendulum
Electronically mapped hydraulic engine mounts in the diesel versions
Decoupled exhaust system on diesel models
Standard chassis with selective damping, as an option: AIRMATIC air suspension with adaptive damping system or AIRMATIC air suspension with adaptive damping system and ACTIVE CURVE SYSTEM dynamic roll stabilisation.
Electric steering
Component compartment wall in plastic in order to minimise penetration of noise from engine compartment into the interior
External noise minimised through acoustic encapsulation of engines
High-insulation acoustic windscreen
Additional aero-acoustic sealing in the side sections
Passive safety:
Two-stage adaptive airbags for the driver and front passenger
Kneebag for the driver
Sidebags for driver and front passenger (combined thorax/pelvis bags)
Sidebags in the rear row of seats as an option
Windowbags across both rows of seats from the A to the C-pillar
3-point seat belts on all five seats
Pyrotechnic reel tensioners and permanent belt force limiters as well as electrically reversible belt tensioners in the front, reel tensioners and single-stage force limiters for the outer seats in the rear
ISOFIX child seat anchorage
Belt height adjustment for driver and front passenger
Belt status display for rear-seat passengers in the instrument cluster
Automatic child seat recognition (optional) with deactivation of the front passenger airbag if a special Mercedes-Benz child seat is used.
In a rear-end collision, a passive head restraint system developed specifically for this purpose can reduce the forces exerted on occupants.
Intelligent partner::
Intelligent Light System, ILS, with specific lighting functions
Night View Assist Plus with automatic person recognition
Speed Limit Assist (standard feature of the COMAND Online option)
Lane Keeping Assist – active/passive
Blind Spot Assist – active/passive
DISTRONIC PLUS
BAS PLUS (in conjunction with DISTRONIC PLUS)
PRE-SAFE® Brake with autonomous braking (in conjunction with DISTRONIC PLUS)
Source: Mercedes